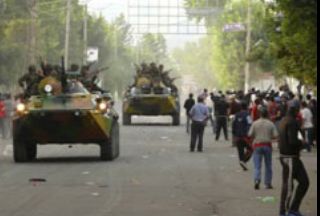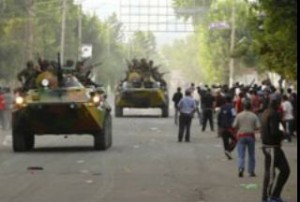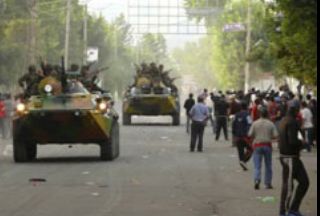 A battalion of Russian paratroopers has arrived in southern Kyrgyzstan on the third day of deadly ethnic violence in the former Soviet Union republic.
Russian security officials said Sunday that the troops are only to help protect Russian military facilities in Kyrgyzstan and have no plans to intervene.
"The mission of the force that has landed is to reinforce the defense of Russian military facilities and ensure security of Russian military servicemen and their families," Interfax quoted a security source as saying.
Kyrgyzstan's interim government had already called on Russia to send troops to help contain the ethnic clashes in the country's south.
The violence between the Kyrgyz and Uzbek ethnic groups has killed over one hundred people and injured over 1,200 more. Tens of thousands of ethnic Uzbeks have fled their homes.
The political situation in Kyrgyzstan has been shaky since the revolt that overthrew former President Kurmanbek Bakiyev in April.