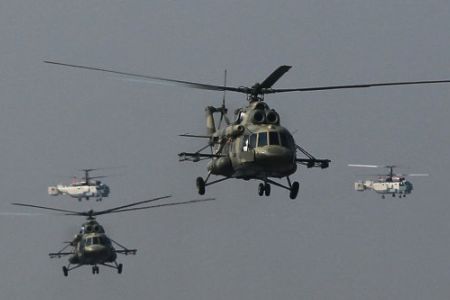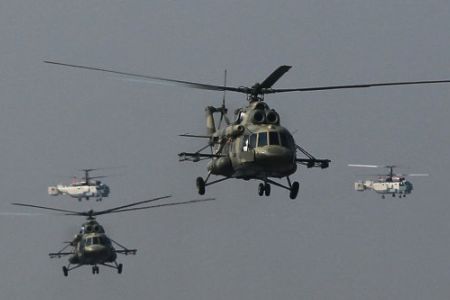 Russia and the United States are expected to hold talks later this month to pave the way for supplying Afghanistan's military with Russian helicopters, reports say.
Zamir Kabulov of the Russian Foreign Ministry's Asia department told the RIA Novosti on Friday that a group of experts from the ministry and Russia's state arms exporter, Rosoboronexport, will meet with US officials in Washington.
Russia plans to deliver about 21 new Mi-17 multi-purpose helicopters to Afghanistan "under a NATO contract or to be part of a US-run tender" worth about $400 million, the report said.
Russia is currently assembling Mi-17 helicopters — capable of carrying 37 passengers — at two factories in the Russian Volga area city of Kazan and the East Siberian city of Ulan-Ude.
Despite imposing sanctions on Rosoboronexport in 2006 for violating the nuclear non-proliferation treaty, the US has purchased dozens of Mi-17s for Afghanistan and Iraq over the past four years. Washington lifted the ban on the Russian company in May, 2010.
The new move comes as the US and Russia have expanded their cooperation in Afghanistan in a bid to pursue their own interests there.
According to a report published in the British daily Telegraph in October, 2010, the cooperation was enhanced after Russian and US forces raided heroin and opium labs in Nangarhar Province near the Pakistan border.
They reportedly destroyed $250 million worth of drugs. Russia's anti-narcotics chief says his unit closely cooperated with its US counterparts to organize the raid, which Afghan President Hamid Karzai has severely criticized.
It is not clear when — and how many — Russian troops have been deployed in Afghanistan. However, experts say up to hundreds of Russian troops participated in the drug raid.
There are currently more than 150,000 US-led foreign troops in Afghanistan. The United States and its Western allies invaded the country in 2001 under the pretext of the fight against terrorism.
Russia has a long history of military involvement in Afghanistan. The former Soviet Union invaded and occupied the country in 1979, but was forced to withdraw nine years later by Afghan resistance forces.
The report notes that so far, the cooperation has mostly been limited to Russia providing its territory for US army transit.
Experts say the operation could be a result of a recent backdoor deal made between the Cold War rivals.