Europe
Russia-Ukraine gas talks fail: EU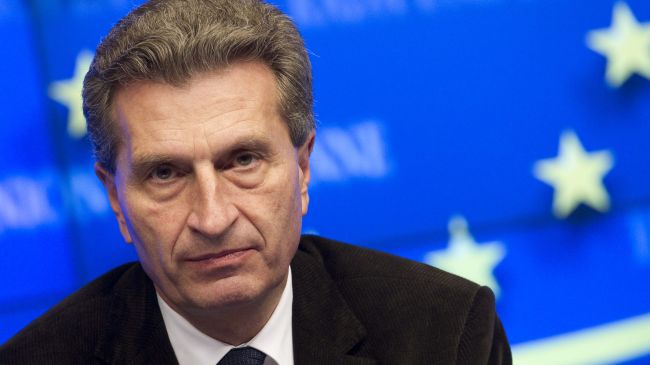 Negotiations between Russia and Ukraine aimed at ending a dispute over gas payments have broken off without any resolution, says a European Union official.
After the conclusion of negotiations between the energy ministers in Germany on Friday, European Union Energy Commissioner Guenther Oettinger told reporters that the two sides have reached no final agreement but that further progress was made. A final agreement on the issue is expected to be reached by June 3.
"This was a step forward but there was no breakthrough today. That could be achieved on Monday," he said.
Ukraine's Energy Minister Yuri Prodan told reporters that Kiev had made a payment worth $786 million to Russian gas giant Gazprom on Friday for Russian gas delivered between March and February.
Russian Energy Minister Alexander Novak said the talks would continue on Monday only if Gazprom actually receives the payment.
"Since the end of February not a single cent has been paid for gas supplied. That is the situation," he said.
Russia's Gazprom threatened Kiev last week to cut natural gas supplies if Ukraine fails to pay part of over $3.5-billion debt it has before June 3.
Gazprom CEO Alexei Miller said in a meeting with Russian President Vladimir Putin that the company would reduce gas supplies if Kiev fails to pre-pay for next month's supplies.
According to reports, Gazprom increased gas price by 80 percent starting from May. Ukraine's authorities did not accept the new price and demanded a discount before they can pay their debts.
Russia provides about half of Ukraine's and 30 percent of Europe's total gas demand with major pipelines on the Ukrainian territory.