Europe
Russia urges Ukraine to meet commitments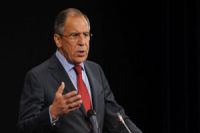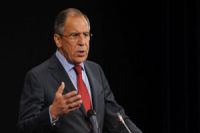 Russian Foreign Minister Sergei Lavrov has said that Ukraine must meet its commitments based on the agreement reached last week in Geneva.
In a phone conversation with his US counterpart John Kerry on Monday, Lavrov urged the United States to "influence Kiev, not let hotheads there provoke a bloody conflict, and impel the current Ukrainian leadership to fulfill its obligations unflaggingly," Russia's foreign ministry said in a statement.
Kerry, for his part, called on Russia to take concrete steps to help implement the Geneva deal.
On April 17, Kiev's interim government together with the United States, Russia and the European Union reached an agreement in Geneva, calling for all sides to "de-escalate" the ongoing crisis in eastern Ukraine, where anti-Kiev protesters have seized buildings in several towns and cities.
However, hours after the signing of the accord, US President Barack Obama warned that Washington is prepared to take further action against Russia in case of a possible failure in the deal.
The West and Russia remain divided over eastern Ukraine where pro-Russian protesters keep occupying key government buildings.
The demonstrators have refused to recognize the recent accord, renewing their calls for a referendum.
Tensions between the Western powers and Moscow heightened after Crimea declared independence from Ukraine and formally applied to become part of the Russian Federation following a referendum on March 16.