Russian Destroyer Berths in Bandar Abbas Port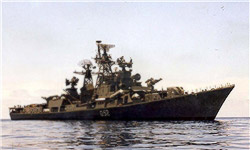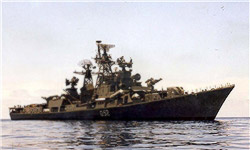 A Russian destroyer has berthed in the Southern Iranian Port of Bandar Abbas, an Iranian Navy commander announced on Wednesday.
"Marshal Shaposhinkov which is a heavy Russian destroyer has berthed in this zone to consolidate the military ties between the two countries," Commander of Iran's First Naval Zone Admiral Hossein Azad said on Wednesday.
He said the Iranian navy has arranged certain programs to be carried out during the presence of the Russian destroyer in the region, but said these programs will be announced later.
Iran and Russia enjoy a special position on the international scene. The two states have long had constant consultations on key regional and global issues.
Russian officials have on various occasions reiterated their country's strong opposition to fresh sanctions against Iran, and urged a negotiated end to the differences between Iran and the West.
Moscow has always voiced strong support for Iran's nuclear rights and sought to act as a mediator or facilitator to resolve the nuclear standoff between Iran and the West.
Despite the rules enshrined in the Non-Proliferation Treaty (NPT) entitling every member state, including Iran, to the right of uranium enrichment, Tehran is now under four rounds of UN Security Council sanctions for turning down West's calls to give up its right of uranium enrichment.
Tehran has dismissed West's demands as politically tainted and illogical, stressing that sanctions and pressures merely consolidate Iranians' national resolve to continue the path.