Europe
Russian jets enter Ukraine airspace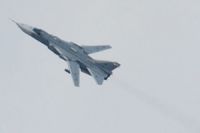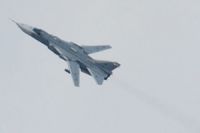 The war of words between the United States and Russia has heated up over Crimea and eastern Ukraine with US military officials now saying that Russian fighter jets crossed into Ukrainian airspace several times over the past 24 hours.

The officials, who spoke on condition of anonymity because they were not authorized to talk to journalists about the issue, said on Friday that the Russian jets could have been checking Ukrainian radar system or making a show of force against the country.
The Autonomous Republic of Crimea declared independence from Ukraine on March 17 and formally applied to become part of Russia following a referendum a day earlier, in which nearly 97 percent of the participants voted in favor of the move.
On March 21, Russian President Vladimir Putin signed into law the documents officially making Crimea part of the Russian territory. He said the move was carried out based on international law.
On April 17, Russia, Ukraine, the US and the European Union agreed over steps to "de-escalate" the crisis in eastern Ukraine, where anti-Kiev protesters seized buildings in several towns and cities.
But, Ukrainian authorities have ordered a military offensive against the protesters, claiming that Russian special forces are fueling unrest in the country.
Putin has dismissed as "nonsense" claims that Russian special forces are fomenting unrest in eastern Ukraine.
This week, Russia began military exercises close to the border with Ukraine, saying the drills are in response to Kiev's intensified crackdown on pro-Russia protesters in the east and south.
Moscow called on the US to force Kiev to halt its operation in Ukraine's eastern and southern regions. But, interim authorities in Kiev said they are ready to fight Russia.
Russian Foreign Minister Sergey Lavrov on Wednesday accused the US of being behind the Ukraine turmoil and said Moscow would respond if its interests came under attack.
"There is no reason not to believe that the Americans are running the show," RT television quoted him as saying.
On Wednesday, some 150 US Army troops arrived in Poland, the first of what will be a "persistent presence" of the US military in the country.
The US soldiers from the 173rd Airborne Brigade Combat Team were airlifted from Vicenza, Italy, and dropped in Swidwin, in the northwest of the country.
At least 450 more US troops will be deployed in the next few days in Estonia, Latvia and Lithuania.
On Tuesday, Pentagon press secretary Rear Adm. John Kirby announced that the US will send 600 troops to Poland, Lithuania, Latvia and Estonia over the coming days for joint military exercises.
In an interview with Press TV on Saturday, American political commentator Don DeBar noted that the US is "placing the military resources into the theater for an attack on Russia."
He added that the Russians are apparently being encircled by the US military.