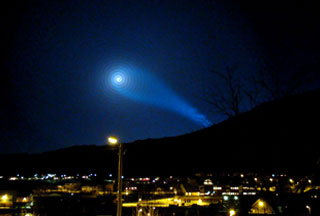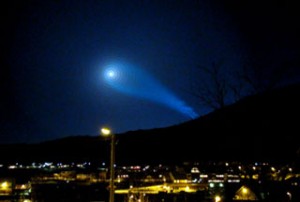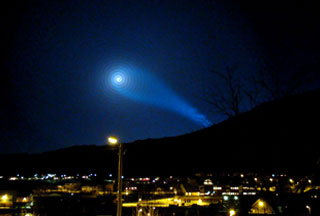 Russia says the test launch of an intercontinental missile failed, solving the mystery of an eerie light seen over parts of Norway.
The strange blue spiral light appeared on Wednesday night and provoked a flood of UFO sighting reports in the Scandinavian country, baffling astronomers and citizens alike.
Kommersant newspaper reported Thursday that the latest failed test-firing of Russia's Bulava missile coincided with the light show in the Norwegian cities of Tromso and Skjeroy.
"Such lights and clouds appear from time to time when a missile fails in the upper layers of the atmosphere and have been reported before…At least this failed test made some nice fireworks for the Norwegians," a leading Russian defense expert, Pavel Felgenhauer, said.
He went on to add that the failure had delivered an embarrassing blow to Russia's armed forces.
The submarine-based and nuclear-capable ballistic missile failed when launched from the White Sea, Russian main news agencies reported.
The Bulava is a missile designed to support the country's nuclear deterrent and can carry six individually targeted nuclear warheads.
It has experienced at least seven failures in the 12 times that it has been test launched, according to Interfax news agency.