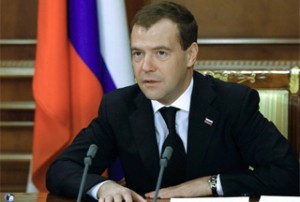 A senior Iranian official says recent claims made by Russia President Dmitry Medvedev regarding Tehran's uranium enrichment are "implausible".
"It is hard to believe that the Russian President actually made such comments and has adopted such a stance against Iran," said lawmaker Mohammad-Reza Mirtajeddini, Vice-President for Parliamentary Affairs, on Monday.
Mirtajeddini, who was speaking in an exclusive interview with Mehr News Agency, added that Russia will soon realize that its cynical approach towards Iran's nuclear issue will come at the Kremlin's own expense.
"Russia's decision to follow in the footsteps of the Americans is going to cost them as it will undoubtedly give rise to global condemnation," he continued.
Mirtahjeddini made the comments a day after Medvedev described Iran as "irresponsible" and urged the country to pay heed to what he called world demands over its uranium enrichment activities.
"The situation is this: An agreement on sanctions exists," the Russian president had said following talks with German Chancellor Angela Merkel in Berlin. "We hope that the voice of the international community is heard by the Iranian leadership."
"Such expressions of irresponsible behavior cannot be continued. What is said internationally needs to be listened to. Only this way can the most complex tasks be solved," he said.
A longtime trade partner, Russia has traditionally opposed the adoption of fresh sanctions on Iran, but in recent months, the Kremlin has joined in on US calls for an end to Tehran's nuclear program.