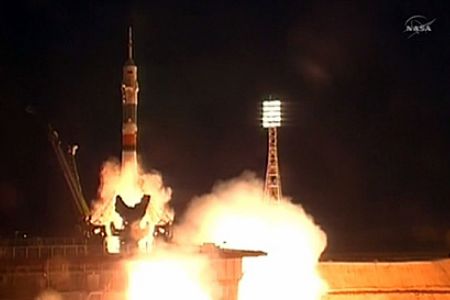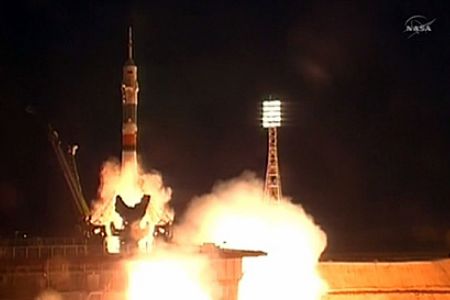 A Russian rocket carrying two cosmonauts and an astronaut to the International Space Station (ISS) has successfully blasted off from Kazakhstan.
The Soyuz TMA-01M was launched on schedule at 3:11 a.m. Moscow time (23:11 GMT Thursday) from the Baikonur Cosmodrome in southern Kazakhstan. It is the first such craft to be fully equipped with a digital measuring system, AFP reported.
A US astronaut, Scott Kelly, and two Russian cosmonauts, Alexander Kaleri and Oleg Skripochka, were onboard the Russian spacecraft, which is due to reach the ISS at 4:02 a.m. Moscow time (0:02 GMT) on Sunday.
Russian space officials said the launch was successful and the craft went into orbit according to plan.
"Everyone is feeling good. Everything is fine on board," Kaleri reported back to mission control.
The crew is due to begin their five-month mission on Sunday as they join two US astronauts and a Russian cosmonaut who have been at the space station since June.
The Soyuz will allow a doubling of the launch rate, which will help keep a crew of six people aboard the space station after the NASA shuttle fleet is retired.
The launch came one month after a rare failure delayed an ISS flight by 24 hours. It has also been reported by Russian officials that the Soyuz spacecraft, which was scheduled to launch on December 13, is facing a problem as it suffered damage to its container in transit to Baikonur.