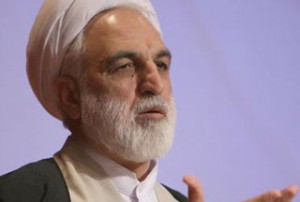 Nearly a month after former Iranian intelligence minister Gholamhossein Mohseni-Ejei was dismissed from his post, Iran's Judiciary appoints him as the country's general prosecutor.
In a meeting between the newly-appointed Judiciary Chief Ayatollah Sadeq Larijani and the country's Supreme Court judges, Mohseni-Ejei replaced former General Prosecutor Qorban-Ali Dori-Najafabadi.
After consultations with the judges, the Judiciary with a majority vote picked Mohseni-Ejei as the top prosecutor and Ayatollah Ahmad Mohseni-Gorgani as the head of the Supreme Court.
The appointment comes as earlier last month President Mahmoud Ahmadinejad sacked his intelligence minister Mohseni-Ejei after he objected to the president's first deputy pick.
Amid a political controversy sparked by the appointment of Esfandiar Rahim-Mashaei — who caused political outrage in the country last year by suggesting that Iran is a "friend of the Israeli people" — as the first vice president, Mohseni-Ejei and several other ministers walked out of a Cabinet meeting with the president.
Days after the walkout, President Ahmadinejad sacked Mohseni-Ejei, taking his place as the country's intelligence minister for his remaining days in office in his first term.