Lebanon
Salafist Cell Planning Attacks on Lebanese Army Discovered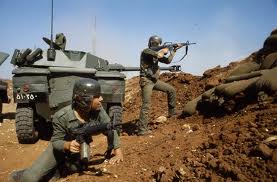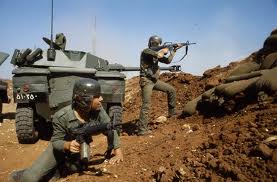 Prime Minister Najib Miqati confirmed on Monday that the Lebanese army had busted a cell within its ranks planning attacks on military barracks.
The extremist network arrested by the Lebanese army intelligence was planning to carry out terrorist attacks on the military school in al-Fayyadiyeh and the army barracks in Hamat, highly informed sources told As Safir local daily on Tuesday.
In remarks to reporters at the Grand Serail, Miqati said the cell is active in northern Lebanon with branches in the Palestinian camps and mainly in Ain al-Hilweh. "But it has nothing to do with the situation in Syria."
As Safir's sources, which described the cell as takfiri with links to the Abdullah Azzam Brigades, allied with the al-Qaida terrorist network, said the army began to find leads into the case after the arrest of a clergyman in northern Lebanon.
Through wiretapping, the army suspected that three soldiers, two from the North and one from the Bekaa, were receiving phone calls from outside the military institution to plan for the attacks.
One suspect was a student officer in the military school, the other was a soldier with the rank of adjutant and the third was a member of the navy seals.
The sources said that the army arrested the three but later released the adjutant after discovering that he had no ties to the network.
Their arrest was accompanied the same day with the seizure of five other civilians who have admitted to forming the takfiri network that sees the military institution as "infidel and atheist."
Sources told As Safir that the suspects admitted that the ring leader is a Palestinian named Abu Mohammed who resides at one of the refugee camps in Lebanon.
According to al-Akhbar local daily on Monday, the Palestinian man's full name is Abu Mohammed Toufiq Taha, who is the Abdullah Azzam Brigades' ringleader in Ain el-Hilweh camp and wanted on several charges.
While Taha is on the run, the other six were arrested by the army intelligence, al-Akhbar noted.
Miqati also stressed that he rejects "any history book that doesn't receive the consensus of all the Lebanese."
"Any country that doesn't have a history has no future," he said.
At least 10 people were injured on Sunday when Phalange and National Liberal Party youth protestors clashed with security forces during a rally against a new history curriculum near the Grand Serail.
The protestors and other Christian parties have rejected the curriculum, saying it omits key events in the country's past, including several incidents that took place during the 1975-1990 civil war and the so-called "cedar revolution" of 2005 that is claimed it drove Syrian forces out of Lebanon after the assassination of ex-Premier Rafik Hariri.