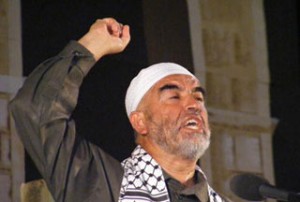 The prominent Muslim leader in the 1948-occupied Palestinian lands Raed Salah has warned Thursday that the Zionist occupation was accelerating its plans to judaize Al Aqsa Mosque, describing the first six months of this year as "decisive" to the Mosque.
In a press statement he issued and which was published by the Quds Press, Salah hinted to a number of signs indicating that the first six months of this year would be decisive as far as the issue of the Aqsa Mosque is concerned, predicting a number of serious events that would occur in this period pertaining to the Aqsa file.
In this regard, Salah accused the ZO of planning to build a "false" Temple at the expense of the Aqsa Mosque, adding that the excavations that the ZO had been carrying out for a long time under the Mosque created a network of tunnels under the Mosque, the old town of Jerusalem, and the Selwan suburb, which is very close to the Mosque, and that the ZO would link those tunnels together.
"We started to notice cracks in Palestinian homes in the old town, the Selwan suburb, and the some parts of the Aqsa buildings", Salah confirmed, quoting a number of Palestinian Jerusalemite families as saying that some of the houses there indeed collapsed as a result of digging those tunnels.
Furthermore, Salah pointed out that the Zionist occupation in Jerusalem started the construction of a synagogue near the Buraq plaza that would be inaugurated on the 16th of March, which, he asserted, would have bad impact on the Mosque.
He also charged the Zionist occupation of conniving to divide the Aqsa Mosque between Muslims and Jews in the same way it did with the Ibrahimi Mosque in Al-Khalil city in 1994 [after an armed Zionist settler massacred tens of Palestinian worshippers performing dawn prayer inside the Mosque].
Salah called on Arab and Muslim leaders and peoples to rise to the level of the event and to break the passive stand they have been adopting for decades now, stressing that Arabs and Muslims possess strong cards that they could use to pressure the occupation.
Salah was recently sentenced by Zionist court to nine months in jails because of his role in defending the Aqsa Mosque and in exposing that Zionist plans to harm it.