Iran
Salehi Calls on World Powers to Start Prerequisite-Free, Honest Talks with Iran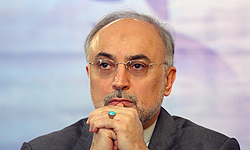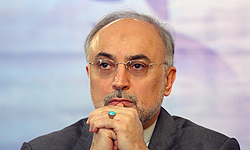 Iran's Foreign Minister Ali Akbar Salehi called on the Group 5+1 (the five permanent UN Security Council members plus Germany) to take part in the upcoming negotiations with Iran in an honest way and free from any precondition.
"Setting condition before the meeting means concluding before talks, that is completely meaningless and none of the (negotiating) parties will accept conditions prior to negotiation," Salehi said on Monday.
"We hope that the G5+1 comes to the negotiating table honestly," Salehi stated, adding that Iran, too, will make honest efforts to work out a win-win result desirable for both sides.
"We have our own views in the meeting and G5+1, too, has its own views, but we should find the commonalities," Salehi noted.
The remarks by Salehi came after EU foreign policy officials Sunday evening confirmed earlier reports in Tehran that the two sides have agreed to resume negotiations in a new round of meetings in Istanbul.
Sources told FNA yesterday afternoon that Iran and the Group 5+1 have eventually accepted to resume their talks in Istanbul, Turkey, on April 14 and in case of good progress hold a second round of talks in Iraq's capital city of Baghdad.
Later in the day, a spokesperson of the European Union (EU) confirmed the report, saying that a new round of negotiation between Iran and the world powers will be held on April 14 in Istanbul.
Sources also told FNA yesterday that the Iraqi capital city of Baghdad will be the second host to the Iran-powers talks in case of progress in the first round of negotiations in Istanbul.
The last meeting between the two sides took place in Istanbul in January 2011. Iran and the G5+1 had also held two rounds of multifaceted talks in Geneva in December 2010.
The Iranian team of negotiators is led by Supreme National Security Council (SNSC) Secretary Saeed Jalili, while delegations of the six world powers are headed by EU foreign policy Chief Catherine Ashton. The deputies of Jalili and Ashton were in charge of discussions over the date and venue of the talks.