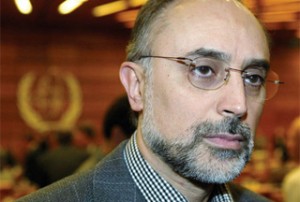 Iran's nuclear chief Ali Akbar Salehi gives an upbeat forecast for future negotiations with the UN nuclear watchdog, saying Tehran's nuclear case has been closed.
"As far as safeguards are concerned, Iran's nuclear issue has been fully resolved," said Salehi in a Sunday press conference after his meeting with IAEA Chief Mohammad ElBaradei.
Salehi said his meeting with ElBaradei was 'quite productive' and hoped that it would gradually help defuse the nuclear dispute once and for all.
"We discussed a number of issues, including Iran's request for 20 percent enriched uranium for the Tehran nuclear reactor," said Salehi.
The Tehran research reactor, which produces radiomedicine for cancer patients, runs on uranium that is some 20 percent U-235 – an enrichment level higher than what is currently generated by Iran's Natanz enrichment facility.
The activities in the research reactor, located in Tehran's northern Amirabad, is just a small part of Iran's nuclear program and the issue has nothing to do with Iran's wide-ranging talks with group P5+1 which are based on Iran's proposal package presented to Western powers.
"We also set a late October date for IAEA officials to inspect the Fordo enrichment facility in southern Tehran," he said.
Iran has announced the existence of Fordo nuclear plant 12 months before the agency's regulations oblige its members states to inform of new developments.
Salehi also hoped that Iran's cooperation in addressing concern over its nuclear activities would be acknowledged and reflected in the next IAEA report.
"We hope that the country's nuclear case would return to its normal course," he said.
Elbaradei, for his part, said Iran and the IAEA are working in the right direction, and that Tehran's relations with the West is on the road to recovery.