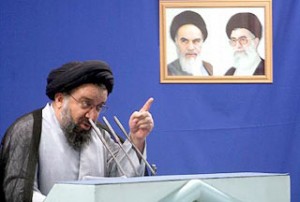 Following the imposition of a new round of sanctions on Iran, Tehran's interim Friday Prayers leader says the UN no longer represents all nations of the world.
"The recent UN Security Council sanctions resolution against Iran will pave the way for Iranian youth to achieve their full potentials," Ayatollah Seyyed Ahmad Khatami told worshipers in Tehran.
"We should use this opportunity to expand and indigenize technology in our country," he urged.
Ayatollah Khatami pointed to the Western sanctions imposed on Iran ever since the victory of the Islamic Revolution in 1979.
"For 31 years the world has witnessed that the Iranian nations is a creator of opportunities and even turns crises into opportunities for itself."
He assured that Iranians would use the new resolution as a platform to move towards self-reliance in different sectors.
Ayatollah Khatami added that "the UN is no longer the United Nations, it is the United Arrogance; therefore its Security Council is not for the world nations. The world should consider establishing an independent security council which is not dominated by superpowers."
He further described US efforts to persuade UNSC member states to approve new sanctions against Iran as a "mischievous act" that has added one crisis to the crises that Washington is already struggling with.
"Who is not aware that the US and Obama himself begged the Brazilian president and the Turkish prime minister not to intervene [in the standoff over Iran's nuclear program]? This arrogant [country] was the first to obstruct the path of the Tehran declaration."