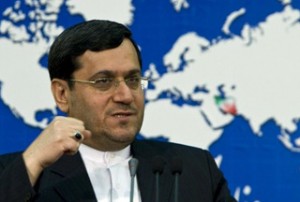 Iran has taken a swipe at Germany over calling for sanctions on Iran's energy sector, saying that sanctions won't prevent Tehran from pursuing its legal rights.
"Experience has proved that sanctions are futile and won't prevent Iran from pursuing its legal rights," Qashqavi said at his weekly press conference on Monday.
"In fact, many countries have condemned anti-Iran sanctions," he further added while criticizing the remarks by German Chancellor Angela Merkel regarding energy sanctions against Iran.
Qashqavi advised the German Chancellor to have realistic views over Iran.
In an interview published on Thursday by the Frankfurter Allgemeine Zeitung, Merkel said that any new rounds of sanctions regarding Iran's nuclear activities should mainly target its energy sector.
"If there is no progress, we would have to react with further sanctions," Merkel told the daily Frankfurter Allgemeine Zeitung.
"What is clear is that Tehran, whose president constantly questions Israel's right to exist, must not get the atomic bomb," she said.
She noted that the six powers attempting to convince Iran to abandon its nuclear work — Britain, China, France, Germany, Russia and the United States — will gather in September to discuss how to ratchet up pressure.
"I don't want to preempt the talks, but economic sanctions dealing with the energy sector are on the table. We must wait to see what comes of the talks. We must also speak about them (possible sanctions) with our partners Russia and China."
Iran believes that Merkel's remarks regarding energy sanctions against Iran are part of the Western psychological warfare against the country.
Israel, the US and their European allies — Britain, France and Germany — have accused the Islamic Republic of covertly seeking to build nuclear weapons. Tehran, however, insists that its nuclear activities are merely aimed at using the civilian applications of the technology and generating electricity in a bid to meet its soaring energy demands.
"Iran's activities are based on the Nuclear Non-Proliferation Treaty (NPT) as it was mentioned in the head of the International Atomic Energy Agency (IAEA) Mohamed ElBaradei's report," Qashqavi said.
"We are a member of the International Atomic Energy Agency (IAEA), accepted the NPT and will continue our peaceful activities within the framework of international laws," he concluded.