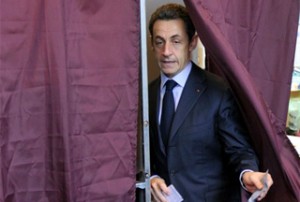 French President Nicolas Sarkozy has reshuffled his government after his party took a beating at the polls in the country's regional elections.
The reshuffle sees the ouster of the labor minister from government. Changes were also made in the budget and youth ministries.
Despite the government's calling the March 21 vote in 26 regions of metropolitan France and overseas territories as 'minor,' the ruling Union for a Popular Movement (UMP) party comes under mounting pressure to make changes after Sunday's humiliating defeat.
The latest ballot has put the Socialist-led opposition alliance in control of 23 of the country's 26 regions.
The rightist UMP managed to claim just 35.3 percent of the vote over its failure to bring prosperity to French workers and its imposition of wage cuts on public sector earnings and proposition of unpopular state pension reforms.
Sarkozy's approval ratings are at record lows as a new poll predicts further isolation for the president, with 57 percent of voters seeking a change in national government.