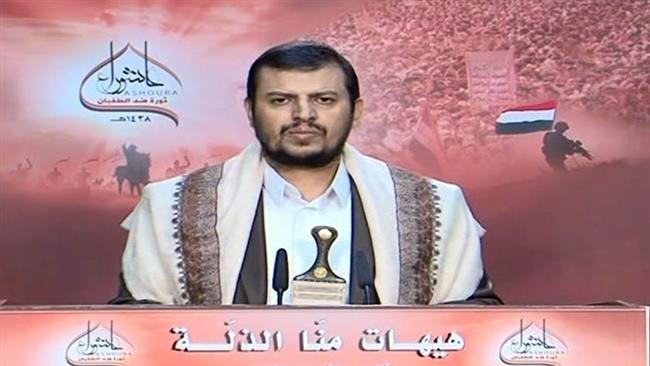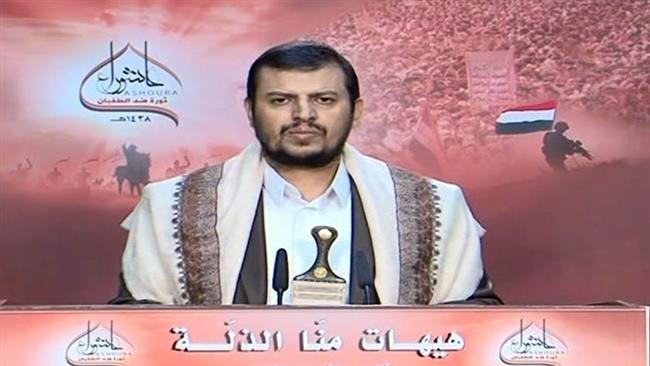 The leader of Yemen's Houthi Ansarullah movement says Saudi Arabia aims to destroy the Muslim world, describing the Riyadh regime as the "flag-bearer of hypocrisy."
The "evil Saudi regime is the flag-bearer of hypocrisy," Abdul-Malik al-Houthi said on Wednesday, adding that "this regime, which is acting as a lackey of the US, has embarked on destroying the Muslim word" and has been fighting Islam in the name of religion.
Houthi made the remarks in an address to the Yemeni people on theoccasion of Ashura, the martyrdom anniversary of Imam Hussein (PBUH), the third Shia Imam.
He said the Saudi military aggression against Yemen was being carried out under the supervision of the US.
The Houthi leader also condemned US crimes in other parts of the world, including Iraq and Afghanistan, and said Washington was seeking to introduce itself as the savior of nations.
He also condemned a recent deadly Saudi airstrike that killed over 140 Yemenis in the capital, Sana'a, and lashed out at efforts aimed at covering up the crime.
"This crime calls upon us to confront the aggressors seriously, because otherwise they will continue with such atrocities," he added.
Houthi said that the UN is incapable of putting an end to the war in Yemen, stressing the nation's firm resistance against the aggressors.
Yemen, the most impoverished Arab country, has been under relentless Saudi airstrikes since March 2015, when Saudi Arabia launched its military aggression against the neighboring country in an attempt to undermine Ansarullah and reinstate Abd Rabbuh Mansur Hadi, a staunch ally of Riyadh, who has resigned from his post as the country's president.
In one of the deadliest single attacks in the country, Saudi fighter jets bombarded a funeral hall packed with mourners in Sana'a on Saturday, killing over 140 people and injuring at least 525 others.
The Saudi military aggression against Yemen has so far claimed the lives of at least 10,000 people, according to the UN.