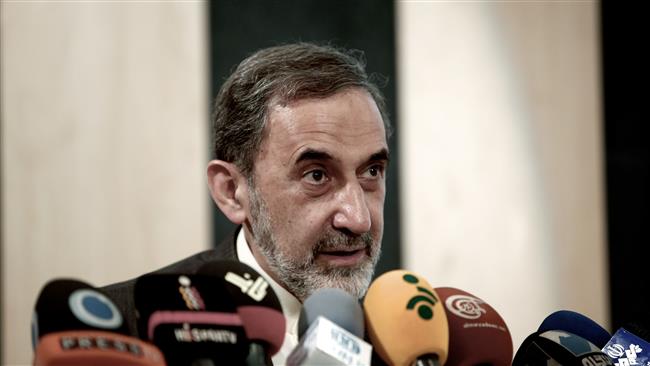 A senior Iranian official has condemned the Saudi airstrikes on Yemen as "inhumane," saying the Riyadh regime will suffer the consequences of its aggression against the impoverished country.
"No international, Islamic or humanitarian principle approves of the [Saudi] aggression against Yemen, since they (the aggressors) are killing the oppressed and defenseless people," Ali Akbar Velayati, an advisor to Leader of the Islamic Revolution Ayatollah Seyyed Ali Khamenei, told reporters on Tuesday.
He said Saudi Arabia's continuation of its policies on Yemen will "backfire" on the kingdom as the regime's aggression has claimed the lives of a large number of civilians.
Velayati, who is also the president of the Center for Strategic Research of Iran's Expediency Council, said the Yemeni people will resist the Saudi attacks and eventually emerge victorious in the war against their country.
A Yemeni youth stands on April 12, 2015 near a crater at the compound of Sana'a's al-Yarmuk football club which was hit the previous day by a Saudi airstrike in the Yemeni capital's northern al-Rawda district. ©AFP
Saudi Arabia's military aggression against Yemen, which is being carried out without a United Nations mandate, has claimed the lives of almost 2,600 people.
Yemen has been under Saudi airstrikes since March 26, in a campaign aimed at restoring power to the fugitive former president, Abd Rabbuh Mansur Hadi.
On Monday, Colonel Sharaf Luqman, the spokesman for Yemen's armed forces and popular committees, said that civilians and Yemeni infrastructure have been the target of the Saudi aggression.
A lot of government buildings, schools, shops, gas stations, markets, stadiums and mosques have also been destroyed in the attacks, the spokesman added, describing the Saudi brutalities in Yemen as "war crimes".