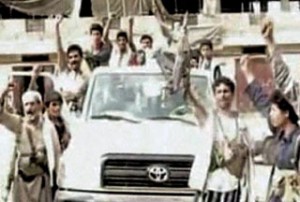 Houthi fighters said Wednesday they have managed to repel Saudi forces trying to infiltrate into Sa'ada Province in northern Yemen, after killing a number of Saudi soldiers.
According to a statement released by the fighters, Saudi forces conducted multiple military operations in the morning to penetrate the Jebel al-Madood border region in northern Yemen via the southwestern village of al-Jabiri — some 600 miles (966 kilometers) from the Saudi capital of Riyadh.
The statement said the hours-long operations ended in failure, with Saudi troops suffering significant casualties. Houthi fighters said they set several Saudi military vehicles ablaze.
Saudi fighter jets on Tuesday launched eight airstrikes on the northern border areas of Jebel al-Dukhan and Jebel Dhar al-Hamar. Saudi troops, meanwhile, used more than 300 rockets to target suspected Houthi positions.
Houthis say Yemeni President Ali Abdullah Saleh has plunged the country into a state of chaos.
"We had warned of Yemen falling prey to civilian massacres and other forms of collateral damage and of joining the ranks of Afghanistan and Somalia. Everyone well remembers the time when there was no talk of al-Qaeda in Yemen. Ali Abdullah Saleh paved the ground for emergence of al-Qaeda offshoots in Yemen," they said.
"The radical Salafi group has spread like wildfire across Yemen and its members have infiltrated into Yemen's army, intelligence service, universities, media and even educational centers. Yemenis nowadays consider al-Qaeda as a state apparatus which serves Saleh's interests in the fight against us and seeks to misrepresent Sa'ada residents as terrorists."
Saudi Arabia joined the Yemeni government's campaign against the Houthis in November 2009. The fighters accuse Riyadh of targeting civilian areas far from the Saudi-Yemeni border. The fighting has so far killed scores of civilians and displaced thousands.
Yemen claims the fighters are seeking to revive an imamate that was toppled in 1962. The fighters, however, say they demand an end to government's social, economic and political "discrimination" against Shias as well as Saudi-backed attempts to spread Wahabism — a sect that preaches controversial and violent actions — in the northern areas.
The UN High Commissioner for Refugees estimates that since 2004, up to 175,000 people have been forced to leave their homes in Sa'ada and take refuge in overcrowded camps set up by the United Nations.