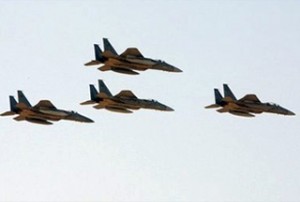 Saudi fighter jets have launched another round of aerial bombardment of northern Yemen, despite Riyadh's claims that the operations against the fighters were over.
According to a statement released by the fighters on Wednesday, Saudi forces carried out 13 air raids on al-Raqqa, al-Sabbah regions as well as villages in close proximity to al-Malaheet. The statement added that Saudi forces had also fired over 900 rockets on rugged regions in the north.
The latest blitz comes while on Tuesday, Saudi Deputy Defense Minister Prince Khaled bin Sultan had said that the bulk of the Kingdom's operations against northern Yemen's fighters were now over.
The attacks, meanwhile, targeted civilian areas in the mountainous Bani Bahr and Ghamra districts.
The conflict between the central government in Sana'a and the Houthis of northern Yemen began in 2004. The conflict intensified in August 2009 when the Yemeni army launched Operation Scorched Earth, alleging that the Houthi fighters had violated the terms of a ceasefire by taking foreign visitors hostage.
The Houthis accuse the Yemeni government of violation of their civil rights, political, economic and religious marginalization as well as large-scale corruption.
Saudi Arabia joined the Yemeni government on November 3, claiming that the Houthis had attacked one of their border checkpoints.
Houthi fighters say that Saudi airstrikes on northern Yemeni villages indiscriminately target civilians. According to the fighters, the Saudis are using unconventional weapons, including white phosphorus bombs, against civilians in northern Yemen.
The UN High Commissioner for Refugees estimates that since 2004, up to 175,000 people have been forced to leave their homes in Sa'ada and take refuge in overcrowded camps set up by the United Nations.