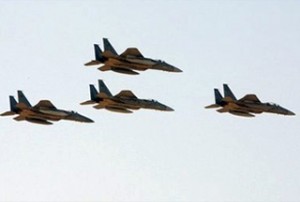 The Houthi fighters in Yemen say Saudi warplanes have carried out several airstrikes on the country's beleaguered northern areas, leaving a child dead.
According to the fighters, the warplanes targeted more than 20 villages in Sa'ada province on Friday.
The fighters also reported that they have repelled an incursion by Saudi troops in an area near the border.
Saudi Arabia joined the Yemeni government's campaign of cracking down on the Houthi fighters on November 3. Sana'a launched Operation Scorched Earth in August 2009, claiming that the fighters had breached the terms of a ceasefire by taking foreign tourists hostage.
The Houthis, however, deny the charges accusing the Yemeni government of violation of their civil rights, political, economic and religious marginalization as well as large-scale corruption.
Meanwhile, a Yemeni government source claimed that eleven fighters were killed in clashes with the country's military.
The Source added that a number of "others were wounded in widespread combing operations and strikes by military and security units on Thursday against gatherings of Houthis," Reuters reported on Friday.
Another unnamed source also claimed that Yemeni forces destroyed what he called a "terrorist den" in the northern Sa'ada region on Thursday, Reuters reported.