Middle East
Saudi Arabia
Yemen
Saudi-led coalition impounding 127 oil tankers, levying massive fines on Yemen: Oil company
The Yemeni Petroleum Company (YPC) says the Saudi-led coalition has been preventing more than 120 tankers carrying energy derivatives destined for the war-ravaged Arab country from unloading their critical consignments, imposing multi-million dollar fines on them.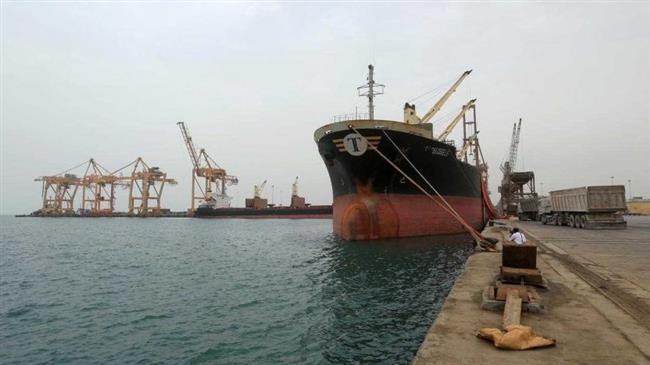 The company announced in a press release on Thursday that 127 vessels are now impounded off the coast off Yemen for different time periods, and that the seizure has resulted in fines worth nearly $60 million for delayed delivery of their consignment, Arabic-language al-Masirah television network reported.
The YPC added that Bahia Damas oil tanker, which is reportedly sailing under the flag of Panama, has not been allowed to dock at Yemeni ports over the past 145 days.
The company noted that the fines could have been avoided if the coalition of aggression had not pressed ahead with its arbitrary measures of seizing oil tankers offshore.
The YPC went on to say that the seizure of the oil vessels comes despite the fact that the tankers had earlier acquired necessary permits from the United Nations, and were sailing towards the Red Sea port of Hudaydah.
It highlighted that the ongoing Saudi-led blockade has deprived the Yemeni nation of the opportunity to reap the benefit of the sharp decline in crude oil prices.
"The aggressive siege is meant to push up the cost of basic commodities and services, and subsequently increase the sufferings of the Yemeni nation," the YPC said.
Moreover, the YPC revealed that the Saudi-led military alliance together with Saudi-backed militiamen loyal to Yemen's former president Abd Rabbuh Mansur Hadi are trying to stop refineries in Yemen's central province of Ma'rib from operating despite an urgent local demand for oil derivatives.
Saudi Arabia and a number of its regional allies launched the devastating war on Yemen in March 2015 in order to bring Hadi back to power and crush the Houthi Ansarullah movement.
The US-based Armed Conflict Location and Event Data Project (ACLED), a nonprofit conflict-research organization, estimates that the war has claimed more than 100,000 lives over the past five years.
Riyadh and its allies have been widely criticized for the high civilian death toll resulted from their bombing campaign in Yemen.
At least 80% of the 28 million-strong population is reliant on aid to survive in what the United Nations has called the world's worst humanitarian crisis.