Middle East
Saudi Arabia
Yemen
Satanic Saudi-led coalition launches fresh airstrikes on Yemen
Saudi warplanes have launched several airstrikes on Yemen's capital Sana'a, leaving at least one dead and two others wounded.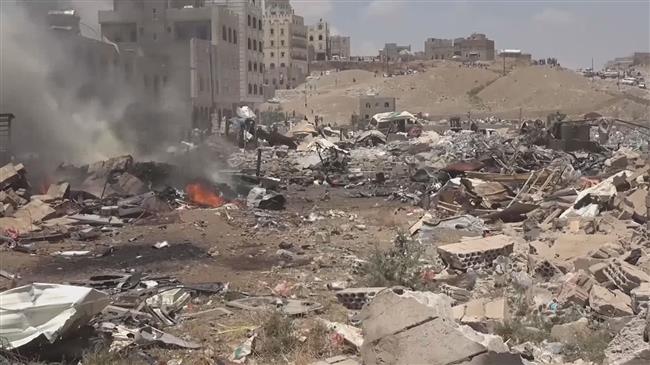 The casualties came after an army academy was targeted by the Saudi-led coalition's warplanes. Reports say over a dozen sensitive targets including the presidential palace compound and a military base near Sana'a capital were pounded in the strikes.
The coalition's airstrikes come two days after the Yemeni army backed by popular committees carried out retaliatory attacks on the Saudi capital Riyadh and the Kingdom's southern city of Jizan. He also warned that as long as the siege and war against Yemen persist, army operations against the invaders would continue.
Yemeni army soldiers and their allies have carried out 5,278 retaliatory attacks against designated strategic targets inside Saudi Arabia and elsewhere in the region, of which 1,686 offensives were mounted in 2019 alone.
Saudi Arabia and a number of its regional allies launched a devastating campaign against Yemen in March 2015, with the goal of bringing former president Abd Rabbuh Mansur Hadi and crushing the Houthi Ansarullah movement. The UN says over 24 million Yemenis are in dire need of humanitarian aid, including 10 million suffering from extreme levels of hunger.
Experts say over five years after the Saudi invasion of Yemen, Yemeni army and Ansarullah fighters' capabilities have strengthened significantly. Now with the fresh airstrikes on Yemen, according to experts, more retaliatory attacks awaits Saudi Arabia.