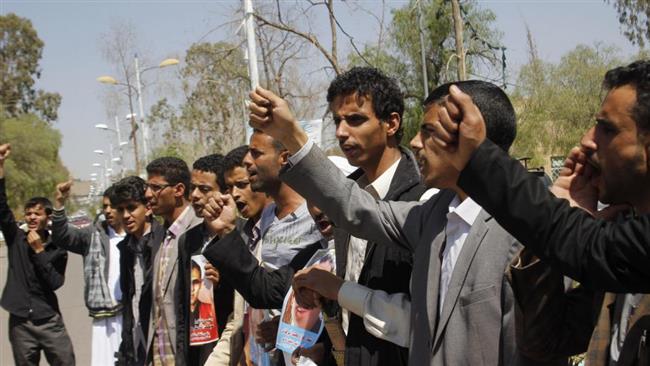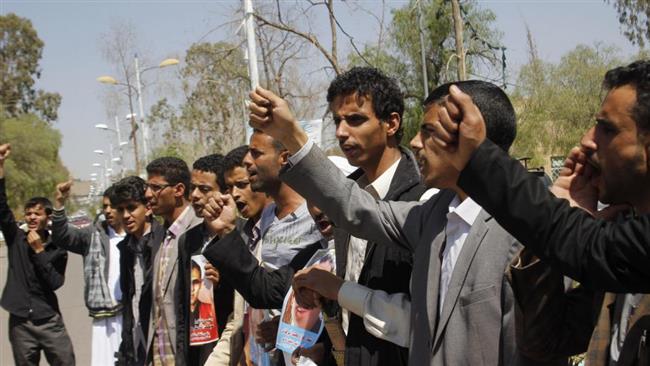 Saudi-led naval forces say they have taken full control of Yemen's ports and have imposed a blockade on them as Saudi Arabia's deadly airstrikes continue in the Arabian Peninsula country.
Saudi Brig. Gen. Ahmed Asiri, the spokesman for the Saudi-led forces, told reporters in the capital city of Riyadh on Monday that the naval forces are blocking the movement of ships in Yemen's ports.
The comments came as media reports said Egyptian naval vessels on Monday shelled positions of Houthi movement's Ansarullah fighters as well as those of forces loyal to the ousted president, Ali Abdullah Saleh, in the east of the port city of Aden.
Yemenis chant slogans during a protest against Saudi-led airstrikes in the country in the capital Sana'a on March 30, 2015. © AP
Earlier on Monday, at least 40 people were killed and 200 others wounded in an airstrike by Saudi warplanes targeting a camp for displaced people in northwestern Yemen, according to the International Organization for Migration.
The al-Mazrak camp in Yemen's province of Hajjah has been housing the Yemeni people displaced by the conflict between Houthi fighters and the central government since 2009.
The Saudi air campaign against Yemen, which started on March 26, continued for a fifth straight day on Monday, with warplanes targeting areas around the presidential palace in Sana'a, as Ansarullah fighters keep advancing in areas around Aden.
Riyadh says it has launched the airstrikes to defend the "legitimate government" of Yemen's fugitive president, Abd Rabbuh Mansur Hadi, who has fled to the Saudi capital. The Saudi regime has vowed to press ahead with the bombing until Hadi is reinstated.
Saudi Arabia's airstrikes have been launched without a United Nations mandate. Dozens of people have fallen victim to the attacks so far.