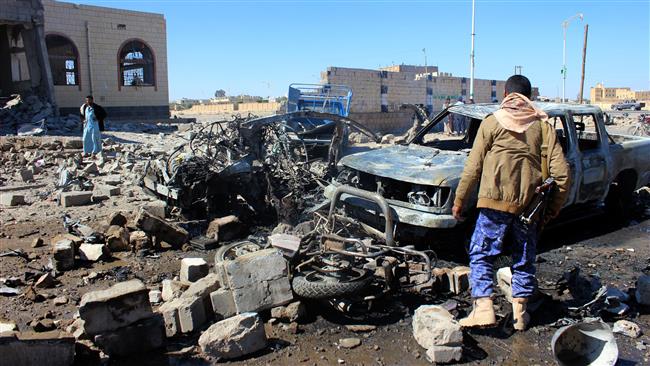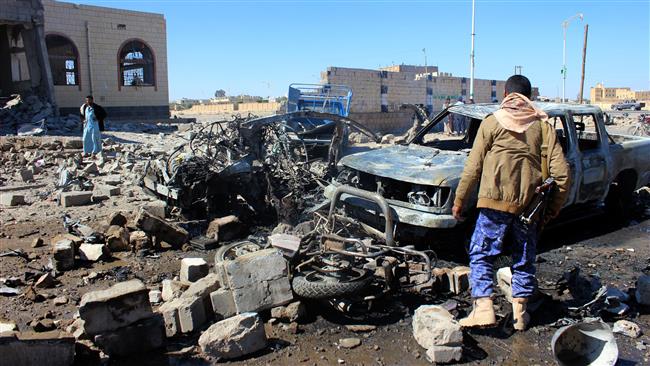 Saudi military aircraft have pounded residential areas in Yemen's northwestern province of Sa'ada, killing four civilians and injuring a number of others.
According to Yemen's al-Masirah television network, Saudi warplanes targeted the Ghamar district of the Arab country's mountainous province of Sa'ada early on Friday.
One woman and a child were among those killed, the report added.
Saudi raids have been met with a strong response from Yemen's Houthi Ansarullah fighters and allied forces.
On Thursday, Yemeni armed forces targeted the positions of Saudi-backed mercenaries in the Arab country's western coasts, killing or injuring around 50 militants and destroying their military vehicles.
Dozens of Saudi-sponsored militants were also captured during the retaliatory operation.
The latest Saudi airstrikes came only hours after a high-ranking UN official slammed the Saudi-led coalition for massacring more than a hundred civilians, including 54 at a crowded market and 14 members of one family in a farm, across Yemen in the past 10 days.
"These incidents prove the complete disregard for human life that all parties, including the Saudi-led coalition, continue to show in this absurd war," Jamie McGoldrick, the UN humanitarian coordinator for Yemen, said on Thursday.
Angered by McGoldrick's remarks, the Riyadh-led coalition said in a statement carried by the Saudi news agency SPA that the UN official's comments on civilian casualties were "biased" toward the Houthi movement and its allies.
The pan-Arab al-Mayadeen satellite TV also reported that Turki al-Maliki, the Saudi-led coalition's spokesman, had on Friday rejected the remarks by McGoldrick, accusing the UN of taking sides with Yemen's Houthi Ansarullah movement.
McGoldrick's statements indicate that he is politicizing his humanitarian duty and misleading the international public opinion, he claimed.
A top UN official says 109 civilians have been killed in the Saudi 'absurd and futile' war against Yemen in the past 10 days.
The Houthi movement has been defending Yemen against the Saudi aggression besides running the country's affairs in Sana'a.
At least 13,600 people have been killed since the onset of Saudi Arabia's military campaign against Yemen in 2015. Much of the Arabian Peninsula country's infrastructure, including hospitals, schools and factories, has been reduced to rubble due to the war.
The Saudi-led war has also triggered a deadly cholera epidemic across Yemen.
According to the World Health Organization's latest count, the cholera outbreak has killed 2,167 people since the end of April and is suspected to have infected 841,906.