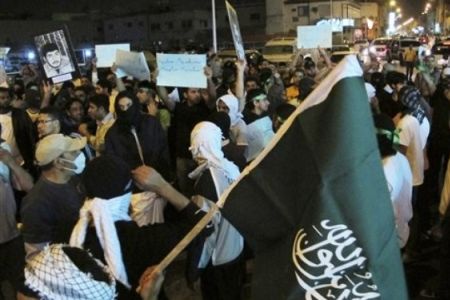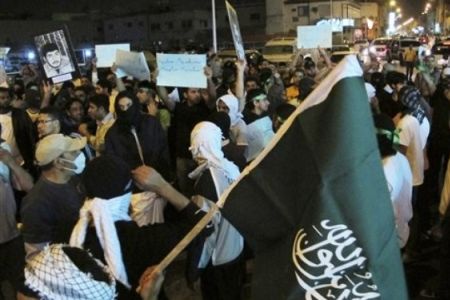 Saudi anti-government protesters have taken to the streets in the eastern part of the country to condemn the Kingdom's military intervention in Bahrain.
Waving Bahraini and Saudi flags, Shia protesters in the cities of Qatif and Awamiyah on Friday expressed solidarity with anti-government protesters in Bahrain and called for the immediate withdrawal of Saudi troops from Bahrain.
Saudi Arabia sent 1,000 troops to Bahrain to help the ruling Al Khalifa family in its brutal crackdown on anti-government protesters.
The peaceful Saudi protesters also called for political reforms and freedom of expression in the Kingdom.
Both cities were besieged by Saudi troops following the anti-government demonstrations but there were no reports of clashes or arrests.
Saudi Arabia's oil-producing east has been the scene of anti-government protests over the past weeks.
Last month a Saudi-based human rights group said that authorities have arrested one hundred protesters for taking part or organizing anti-government demonstrations.
Human Rights First Society (HRFS) also revealed that some of the Shia detainees were subject to both physical and mental torture.
Saudi Arabia's Interior Ministry spokesman Mansour al-Turki refused to comment on the report.
"Anybody who committed a violent act that is criminalized by law in Saudi Arabia will be arrested and anybody proved to be involved in calling for demonstrations will be arrested and sent to the court of law," Turki told Reuters.
In Saudi Arabia, protest rallies and any public displays of dissent are forbidden and are considered illegal. Senior Wahhabi clerics in the kingdom have also censured opposition demonstrations as "un-Islamic."