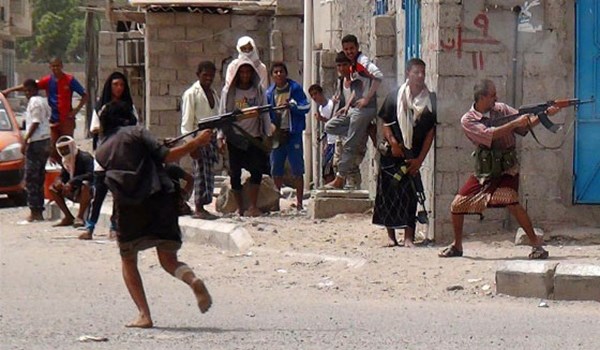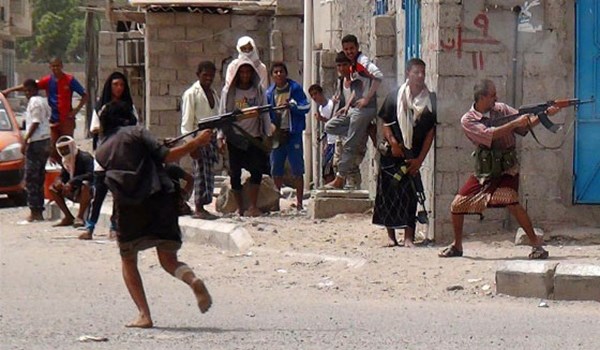 Tensions and clashes between Saudi Arabia and the UAE heightened again in Southern Yemen only few days after fragile tranquility in Aden.
The security authorities in Dale' confirmed that they have arrested 66 officers, who are backed by the UAE and supported former President Ali Abdullah Saleh, while trying to reach Aden province.
"66 officers of the Republican Guard loyal to ex-president Ali Abdullah Saleh were detained at a security point, as they were trying to enter Aden," Akram al-Qudahi, the media official of Dale' security department said.
Al-Qudahi confirmed that the officers are still in detention, denying news that they have been released and allowed to move to Aden to join a coalition camp.
The UAE has threatened that the country's fighter jets will attack the bases of the militants affiliated to fugitive Yemeni President Mansour Hadi.
Local sources in Southern Yemen confirmed that the officers sought to reach a base in Aden commanded by Saleh's nephew, Tariq Saleh.
Al-Jazeera news channel quoted the Yemeni sources as saying that Tariq is in the UAE forces base in al-Bariqeh in Aden which hosts a large number of presidential guards affiliated to Ali Abdullah Saleh to form a division to fight against Ansarullah.
Tensions between Saudi Arabia and the UAE in Southern Yemen, specially Aden, had entered a military stage two weeks ago but a fragile tranquility prevailed in the region last week.
In a relevant development on Sunday, Mansour Hadi finally broke his silence, accusing the United Arab Emirates of undermining stability in Yemen.
Hadi, who is reportedly under a house arrest in Saudi Arabia, released an audio recording from Riyadh, saying the UAE is behind the latest clashes in Yemen's city of Aden, Watan newspaper reported Sunday.
The UAE, he added, is plotting a coup in the Southern port city.
Hadi stressed that the Emirati regime is pursuing its own interests in Yemen and is competing with Saudi Arabia for influence in the impoverished country.
Saudi Arabia launched a bloody military campaign early in 2015 in an attempt to reinstall Hadi and crush the Houthis who administer the capital Sana'a.
Saudi-backed forces loyal Hadi controlled Aden but were ousted last month by UAE-backed separatists after bloody clashes.
The recent fighting, in which the so-called Southern Transitional Council (STC) turned against their former allies, laid bare underlying rifts between the UAE and Saudi Arabia and their jockeying for position in Yemen.
The STC first joined forces with the pro-Hadi militants against Ansarullah forces, but divisions appeared amid accusations that Hadi sought to marginalize the UAE-trained forces.
Riyadh and Abu Dhabi are currently in a damage control mode, sending a "top military and security delegation" to Aden where dozens of people were killed and hundreds of others injured in clashes.
Aden lies at the cross-section of multiple trade routes. The resulting commercial importance has prompted a historical struggle over the city's control.