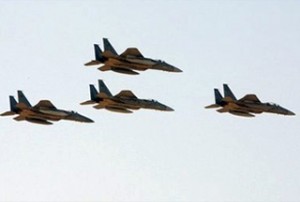 Yemeni lawmaker Yahya al-Houthi says Saudi Arabian warplanes are engaged in the relentless bombardment of civilian positions in Yemen's war-torn north.
In an interview with Press TV on Friday, the Yemeni lawmaker accused the Saudi army of using internationally banned weapons in its attacks on villages in the northern province of Sa'ada, regretting the high civilian toll from the raids.
If Riyadh had nuclear weapons, it would have used them against the Houthi fighters, the lawmaker charged.
Yemen's beleaguered north, bordering the Saudi kingdom, has been the scene of a massive military operation by the Saudi-Yemeni forces, since the Sana'a government stepped up its offensive again the Shia fighters in August.
The central government in Yemen says the Houthis are trying to force the return of clerical rule in the country.
Houthi fighters, however, reject the allegations, accusing the Sunni-dominated Riyadh and Sana'a governments of joining forces to uproot the Shia faith in the territory, and of hiring terrorist elements to reach this goal.
Meanwhile, Saudi Arabia says it will stop its bombing campaign if the Houthis leave the border area, which the Houthis maintain they will do only after Riyadh has stopped aiding the Yemeni army.
This is while the US has been launching airstrikes on the southeastern parts of the impoverished Arab nation in the past two weeks as part of a military pact it signed with Yemen.
Washington is reportedly providing Sana'a with firepower and intelligence in addition to some 70 million dollars worth of military aid Pentagon has poured into Yemen this year.
The White House on Friday once again reiterated President Barack Obama's support for the ongoing military operations across Yemen.