Saudi Arabia
Yemen
Saudileaks: Saudi Foreign Ministry Cable Reveals Qatar's Plots against Yemen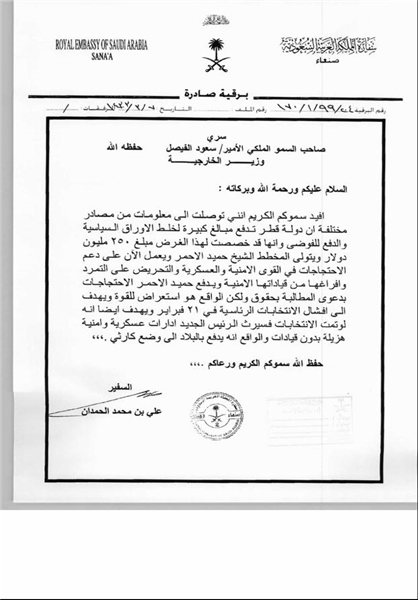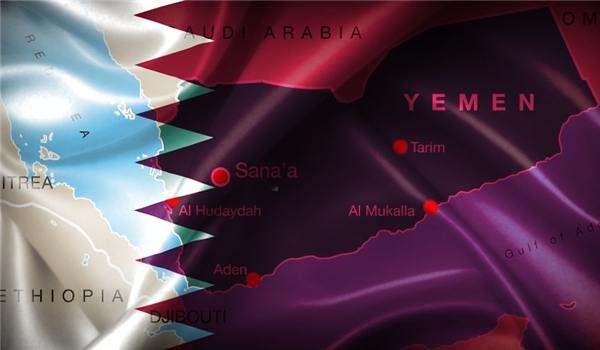 Qatar had in 2012 allocated $250mln to create tension in Yemen, showed one of the foreign ministry cables that has been released by the Yemen Cyber Army after it hacked the Saudi Foreign Ministry in May.
The document which backs to 31 January 2012 was written by Saudi Ambassador to Yemen Ali bin Hamdan to former Saudi Foreign Minister Saud al-Faisal.
"I inform you that we have received some information from different sources that Qatar has spent a large amount of money to create tumult and disturb the political equations in Yemen and has allocated $250mln to this end," it said.
The cable added that the Qatari plots are supported by Sheikh Hamid al-Ahmar, a Yemeni businessman and one of the most prominent opponents of former Yemeni President Ali Abdullah Saleh, who would persuade the Yemeni military and police forces to defy their responsibilities and relevant authorities.
Late in May, Yemen Cyber Army released a portion of the information and documents that it had gained in its recent cyber attack on Saudi Arabia's Foreign, Interior and Defense Ministries.
The Yemen Cyber Army announced that it has hacked the website, servers and archives of Saudi Arabia's Foreign, Interior and Defense ministries and would release thousands of these top secret documents.
The group claimed that it "has gained access to the Saudi Ministry of Foreign Affairs (MOFA) network and have full control over more than 3000 computers and servers, and thousands of users. We also have access to the emails, personal and secret information of hundreds of thousands of their staff and diplomats in different missions around the world".
The hackers' statement, which said the cyber army has also attacked the Saudi Interior and Defense ministries and vowed to release their details later, was carried by several globally known hackers websites.
Following the hack in May, the Yemen Cyber Army sent a copy of its information to FNA and another one to the whistleblower website WikiLeaks.
"WikiLeaks released 60,000 documents on Friday and vowed to release the rest in coming weeks, but we plan to release the documents in separate news items since many of them contain the names of foreign nationals who have demanded visit to Saudi Arabia, for example for Hajj pilgrimage, and their names have been mentioned among the Saudi agents. Thus releasing the list of names and documents might hurt innocent individuals who have done nothing, but applied for visa at a Saudi embassy for doing Hajj pilgrimage," FNA English Editor-in-Chief Seyed Mostafa Khoshcheshm said.
"The number of the documents is way beyond the 500,000 that has been announced by WikiLeaks, but they need to be checked first to make sure that they do not contain misleading information and are not harmful to innocent people," he added.