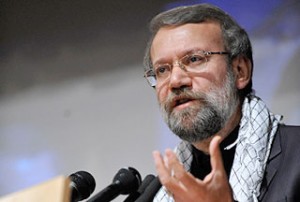 As the Saudi invaders step up their offensives against the Houthis in northern Yemen, Iranian Parliament Speaker Ali Larijani slams the Riyadh government for killing "their Muslim brothers."
"We did not expect the Islamic Saudi government to bombard Muslims in Yemen…It was sedition," Larijani said in a meeting with clerics in the northern province of Golistan.
The Iranian parliament speaker said Riyadh's actions throughout history showed the country has losd its "honor" in the world of Islam.
"After the Zionist regime's attack on Lebanon (in 2006), the Saudis did not defend the Lebanese resistance. They did not support the Palestinians during Israel's attack on Gaza," he said.
"Such reactions are not appropriate for Saudi Arabia as an important Islamic country," Larijani said.
Riyadh has recently reinforced the Yemeni government's offensive against the Houthis, claiming that the Shia fighters have penetrated into the Saudi territory.
The fighters say Saudi Arabia is bombing Yemeni villages with chemical weapons, killing large numbers of civilians.
Larijani described the Saudi claims of Houthis fighting in the Saudi territory as allegations made to "deceive" Muslims.
"I advise our Saudi friends not to spill the blood of their Muslim brothers. The dispute in Yemen cannot be resolved through militarily ways," Larijani said.
Larijani added that if Saudi missiles should be aimed at any where, it should be Israel.