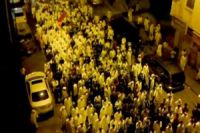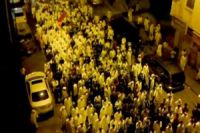 Saudi protesters have staged anti-regime demonstrations in several cities to demand the immediate release of political prisoners.
According to Press TV, protests were reported in the cities of Buraydah, Abu Ja'aleh, Jeddah as well as Qatif in the oil-rich Eastern Province.
The demonstrators condemned Al Saud regime's suppression of dissent and called for the release of prisoners of conscience and those held in prisons without charge for a long time.
The latest rallies come as Saudi security forces arrest six more anti-regime protesters in Qatif.
Saudi activists say there are more than 30,000 political prisoners, mostly prisoners of conscience, in jails across the Kingdom.
According to the activists, most of the detained political thinkers are being held by the government without trial or legitimate charges and that they were arrested for merely looking suspicious.
In October, Saudi authorities warned that they would deal "firmly" with protests after hundreds of Saudis gathered outside Tafiya prison, north of the capital, in September to demand the release of their relatives.
Amnesty International has criticized Riyadh over the warning and urged the authorities to "withdraw their threat." In Saudi Arabia, protests and political gatherings of any kind are prohibited.