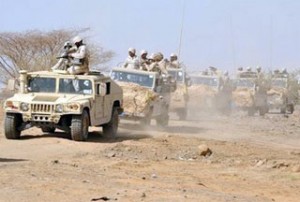 Saudi King Abdullah has reportedly signed a state decree rewarding families of the soldiers killed in raids on Houthi resistance fighters in Yemen.
The Saudi king's latest directive requires the government to award a medal of honor and a sum of USD 266,000 to each family of soldiers killed in cross-border assaults against the Houthi fighters, IRNA reported.
The edict will also allow the recruitment of the immediate male relatives of every fallen soldier in the kingdom's army.
The Saudis joined an assault on the Yemeni group on November 4 over allegations that Houthis killed a Saudi border patrol. The kingdom has pledged to assist the Yemeni government in uprooting the fighters through an intensified blitz and shelling.
Saudi Arabia's move came after the Yemeni government launched its 'Operation Scorched Earth' to crush the Houthi resistance in the mountainous north.
The offensive has so far left thousands of civilians displaced and scores of others killed.