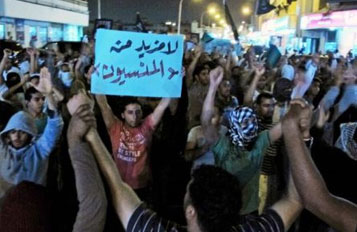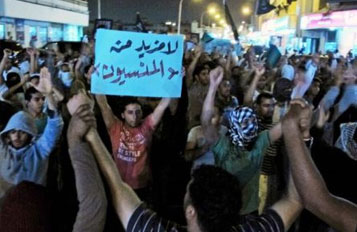 Saudi protesters have once again poured into the streets in the east of country to express solidarity with anti-government protesters in Bahrain, calling for withdrawal of KSA troops there.
Condemning Saudi Arabia's military intervention in Bahrain, the protesters called for the immediate withdrawal of the kingdom's troops from Bahrain. Saudi Arabia sent 1,000 troops to Bahrain to help the ruling Al Khalifa family in its brutal crackdown on anti-regime protesters.
Protesters in Saudi Arabia also denounced the destruction of mosques in Bahrain by Saudi-backed forces.
The rallies were held in the cities of Qatif, Sihat and Awamiyah.
Protesters also called for human rights reform, freedom of expression and the release of political prisoners in their country.
The protest rallies came despite calls by a leading cleric for an end to two months of protests in the kingdom's Eastern Province.
Human Rights Watch said on Wednesday that more than 160 dissidents have been arrested since February as part of the Saudi government's crackdown on anti-government protesters.
"Saudi authorities have arrested over 160 peaceful dissidents in violation of international human rights law since February 2011," HRW said in a statement.
HRW also criticized the European Union and the United States, Saudi Arabia's allies, for not taking a harder line over Riyadh's arrest of dissidents.
"As the list of Saudi political prisoners grows longer, the silence of the US and the EU becomes more deafening," Christoph Wilcke, a senior Middle East researcher at HRW, said in the statement.
A Saudi-based human rights group had earlier reported that Saudi authorities have arrested one hundred protesters for taking part or organizing anti-government demonstrations.
Human Rights First Society (HRFS) also revealed that some of the detainees were subject to both physical and mental torture.
In Saudi Arabia, protest rallies are forbidden and are considered illegal. Senior Wahhabi clerics in the kingdom have also censured opposition demonstrations as "un-Islamic."