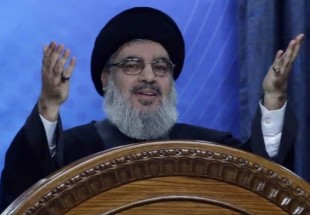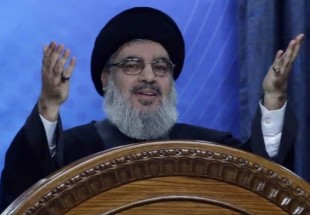 Hezbollah Secretary General Sayyed Hassan Nasrallah says the Lebanese resistance movement is determined to defeat terrorists and Takfiri militants.
During a visit to Lebanon's eastern Bekaa Valley region, Nasrallah said the resistance movement is strong and will be victorious in its fight against the terrorists.
He gave assurances that the movement is ready to confront and stop any aggression against Lebanon and its people.
"Rather, the resistance is present, strong and ready to confront and repel any aggression," he said.
"Our decision in Hezbollah is confrontation," Nasrallah stressed. "There is no room for surrender or defeat whatever the size of the confrontation or pressures."
Hezbollah has been fighting foreign-backed militants, including ISIL Takfiris, in Syria.
It has deployed thousands of fighters to the neighboring country to help President Bashar Assad's forces.
In another part of his remarks, Nasrallah said Hezbollah is prepared to confront any Israeli aggressive move against Lebanon.
"To all those concerned, we tell them that despite the rapid changes in the region, and despite the US-led international coalition – or the 'media alliance' against ISIL – the resistance is not weak and will not weaken," Nasrallah said.
Referring to the recent Israeli border violation in the area of Adloun, Nasrallah said that Israel "wants to test the resistance and our response was detonating a bomb in the Shebaa area."
The Lebanese movement has claimed responsibility for a bomb attack against Israeli forces in the occupied Shebaa Farms in southern Lebanon on September 5, which left two Israeli soldiers injured.
The development came just two days after Israeli soldiers fired at a Lebanese Army post and wounded one soldier in the same area.
The Shebaa Farms area is located at the junction of Lebanon, Syria and Israel and is often the site of cross-border clashes.