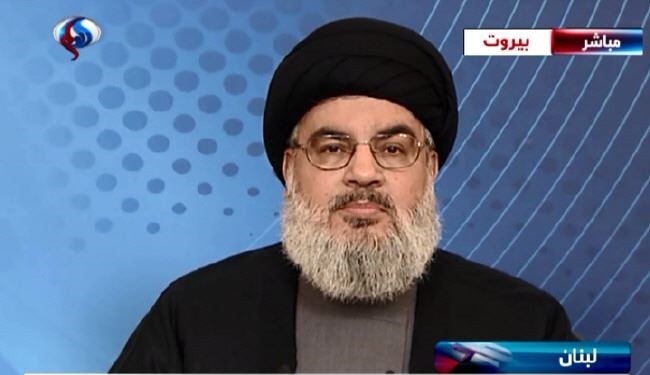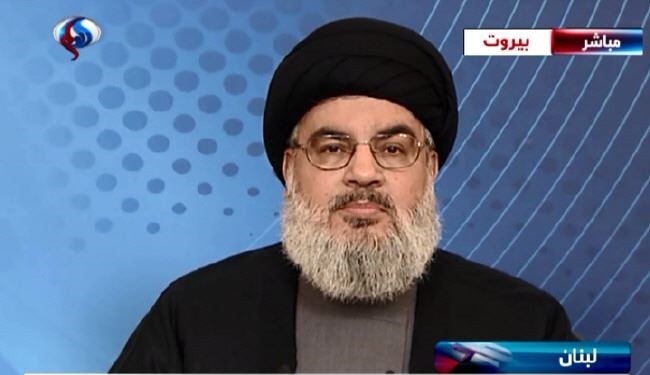 Al-Ekhbariya channel host Sayyed Nasrallah during Domino of Politics talk show at 08:00 pm local time.
His eminence is expected to tackle latest political developments in Lebanon and Syria, as well as in the regional and international arena.
The talk show presenter Rania Thanob posted on her Facebook wall that Sayyed Nasrallah will respond to inquiries on war in Syria and Hezbollah involvement in the crisis, in addition to the war on Yemen and Iraqi crisis, and the nuclear negotiations between the Islamic Republic and the P5+1 group.
Hizbullah Chief Sayyed Hassan Nasrallah in an Interview on Syria's al-Ikhbariya TV said all tension in region is political not regional.
Hizbullah chief Sayyed Hassan Nasrallah in an interview on Syria's al-Ikhbariya TV: I welcome this resistant channel and I'm in continuous communication with the Syrian people through my speeches.
Head of Lebanon's Hezbollah resistance movement seyyed Hassan Nasrallah: A lot of friendships, alliances, animosities and wars have political motives and objectives but many people take advantage of religion to justify wars.
seyyed Nasrallah: We chose to enter the war in Syria. We declared that, mentioned the reasons and joined with our own will.
Head of Lebanon's Hezbollah resistance movement seyyed Hassan Nasrallah: In Lebanon, we didn't tell our allies in order not to embarrass anyone. After we engaged in the war, I apologized to our friends in Lebanon and told them that they were not consulted so that they don't share the consequences.
seyyed Nasrallah: From the very beginning, we knew that our battle in Syria will be long and tough.
source:Al-Manar
Head of Lebanon's Hezbollah resistance movement seyyed Hassan Nasrallah: It has been said a lot that Syria is being targeted because it is an essential component of the axis of resistance, but this is not the only reason. The other reason, which might be more important, is that Syria was a state with an independent decision throughout the past decades … If we want to find an independent state in the region, Syria is one of the few independent states in the region.
Nasrallah: Syria is an essential country in the region and you cannot speak of the future of the region — Turkey, Jordan and Iraq — without Syria.
Head of Lebanon's Hezbollah resistance movement seyyed Hassan Nasrallah: Turkey, Saudi Arabia and Qatar launched ties with President Bashar Assad after the death of his father with the aim of usurping the Syrian decision.
Nasrallah: They wanted to take advantage of al-Qaida in Syria but it took advantage of them.
Nasrallah: Assad was open to dialogue with all figures when the Syrian unrest started, but when some countries sensed Assad's openness, they launched the armed action.
Sayyed Nasrallah: We have no problem with the Jews, but with the Zionists who occupied our land
Sayyed Nasrallah: Involving in Syria war was our choice and we shoulder the responsibility for it
Sayyed Nasrallah: Battle in Syria is still open
Sayyed Nasrallah:Syria has been targeted because it supports the Resistance and enjoys 'independent decision-making process'
Sayyed Nasrallah: The war on Syria has failed. As long as the state exists, this means that the war has not succeeded or achieved its real and main objective. The main regions are still under the regime's control, such as the capital and the main cities. The state still exists and elections were held, while we in Lebanon did not manage to organize polls.
Nasrallah: Seizing areas such as Idlib, Raqa, Ghouta or Deir Ezzor will not achieve their objectives.