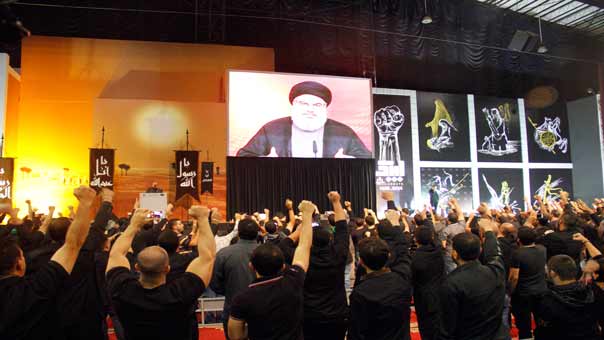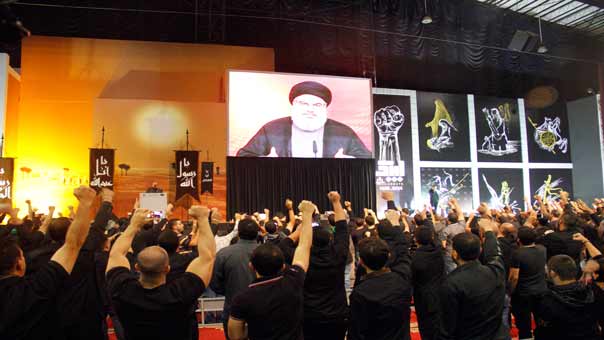 Hezbollah Secretary General Sayyed Hasan Nasrallah stressed importance of commemorating Ashoura, assuring that security threats to target commemoration ceremonies will not keep us from Imam Hussein.Sayyed Nasrallah during Ashoura ceremony in the first night of Muharram 1436
During the first night of Muharram at Sayyed Al-Shuhadaa complex in the southern suburb of Beirut, Sayyed Nasrallah urged participation in Ashoura commemorations, saying that "social, security, or political circumstances will not prevent us" from taking part in these ceremonies.
His eminence stressed that all threats to target Ashoura ceremonies "will not scare us and will not stand between us and Imam Hussein (pbuh)," noting that such threats are part of "Psychological warfare."
Meanwhile, Hezbollah S.G. called on people to cooperate with security measures taken in order to counter these threats.
Concerning the ongoing events in Tripoli, Sayyed Nasrallah warned of a dangerous project which is aimed at seeking sedition, noting that such project have been prepared for Tripoli and the country's north.
"We ask God to help the political, military and security officialsin order to cooperate and face this danger," the resistance leader said, noting that this situation requires wisdom.
Source: Al-Manar Website