Lebanon
Hassan Nasrallah
Leaders of Ummah
Middle East
Sayyed Nasrallah: Hezbollah Will Act at the Proper Time against Any 'israeli' Infringement on Lebanon's Offshore Rights even in Disputed Zone
Hezbollah Secretary General Sayyed Hasan Nasrallah warned the Israeli enemy against running investments in the maritime border zone before the end of the demarcation file.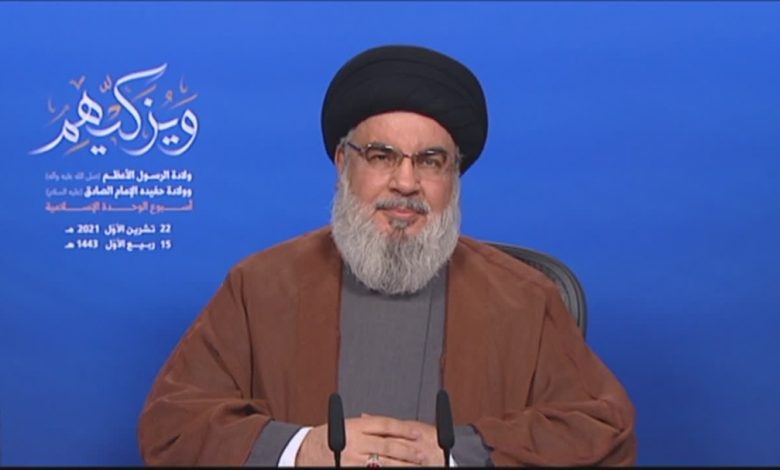 At the proper time, the Resistance will act against any Israeli infringement on Lebanon's offshore resources, even in the disputed zone, Sayyed Naasrallah said during his address to Hezbollah festival on Prophet Muhammad (PBUH) Birthday held in Beirut's Southern Suburb.
Sayyed Nasrallah noted that Hezbollah will not interfere in the demarcation talks, adding that the issue is handled by the Lebanese state.
Sayyed Nasrallah also indicated that Hezbollah is following up the probe into Tayouneh massacre, describing the investigations as serious, accurate as well as brave and calling for continuing the media and political campaign against the culprits in the crime.
Regarding the negotiations with the International Monetary Fund, Sayyed Nasrallah called on the government to form a unified delegation that can preserve the interests of the Lebanese.
Sayyed Nasrallah urged the Lebanese government to address the socioeconomic crisis, calling for approving the ration card.
Hezbollah Leader also called on the merchants to consider the commodities' prices in a merciful way, stressing that the rich must assume their responsibilities to the poor.
The Resistance will keep following its jihad path in order to liberate the occupied territories and protect the sanctities, according to Sayyed Nasrallah who added that Hezbollah will also carry out wisely and decisively all the steps to block the internal seditions.
Regionally, Sayyed Nasrallah called on the United Nations, international community, Muslim countries and all the liberals to take a clear stance against the Saudi-led war on Yemen, stressing that the end of war in Yemen requires approving the ceasefire and lifting the blockade simultaneously.
His eminence also called on the Muslim scholars, elites, and laymen to confront the barbaric ideology and commitments of ISIl terrorist group, citing the samples of bombings it carries out in Afghanistan and other countries.
Sayyed Nasrallah further urged all the Muslims to sustain their unity, warning against the Shiite and Sunni scholars who reinforce the sedition.
Hezbollah Secretary General tackled a number of the occasion's aspects, highlighting the Prophet's values.
Sayyed Nasrallah indicated that Prophet Muhammad consecrated the value of defending the nation, helping the believers, and sacrificing one's soul for the sake of the Umma,. citing the samples of the Iranian, Syrian, Iraqi and Yemeni support to the Palestinian cause despite all the costs.
Sayyed Nasrallah also hailed the Bahrainis who voice rejection of normalization with 'Israel' despite regime punitive measures and highlighted the Iraqi immediate move against the normalization conference held in Erbil as a personification of the Prophet values.