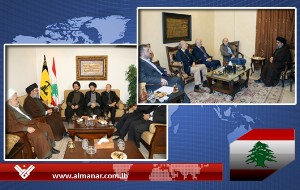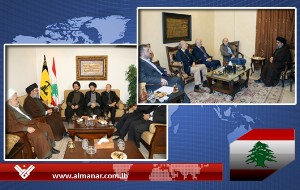 In the framework of the intensive political meetings held lately in Lebanon following the discovery of spy networks and the rumors over the Special Tribunal for Lebanon and its expected verdict, Hezbollah Secretary General Sayyed Hasan Nasrallah received the head of the Democratic Gathering MP Walid Jumblatt, accompanied by Ministers Ghazi Aridi and Akram Chehayeb.
The meeting, attended by Hezbollah official Hajj Wafiq Safa, discussed the latest political developments in Lebanon and the region as well as the regional situation and its repercussions at the political and security levels.
According to a statement issue by Hezbollah media relations, Sayyed Nasrallah and MP Jumblatt also discussed the ministerial situation and the civil rights of the Palestinian refugees in Lebanon. Discussions also focused on spy networks and latest rumors and arguments over the Special Tribunal for Lebanon and the expected findings of Prosecutor Daniel Bellemare.
Both sides stressed the importance of coordination between Hezbollah and the Progressive Socialist Party and the necessity of consolidating the relationship between them through mutual visits and joint meetings.
Meanwhile, Sayyed Nasrallah received a delegation representing the family of late cleric Grand Ayatollah Sayyed Mohamad Hussein Fadlullah, who thanked Hezbollah Secretary General and leadership for all the consolation they have expressed following Ayatollah Fadlullah's death.
Hezbollah Secretary General and the family of Ayatollah Fadlullah stressed the necessity to continue the path to achieve the goals that Sayyed Fadlullah struggled to accomplish at all levels.