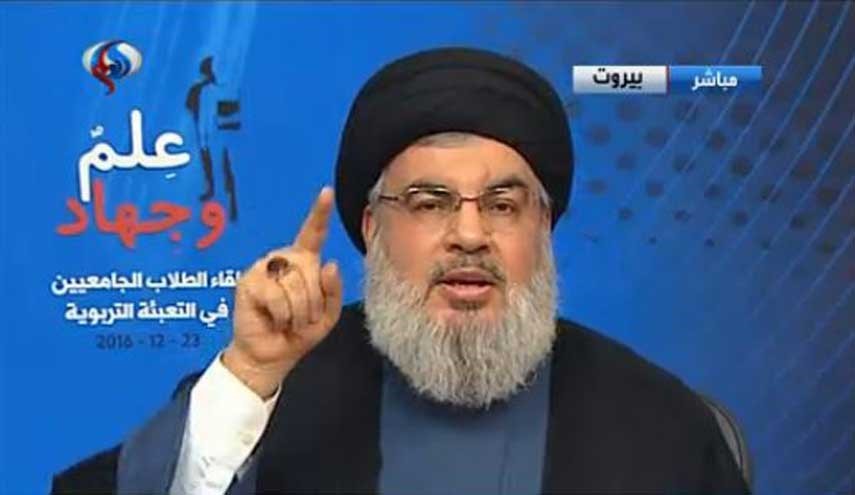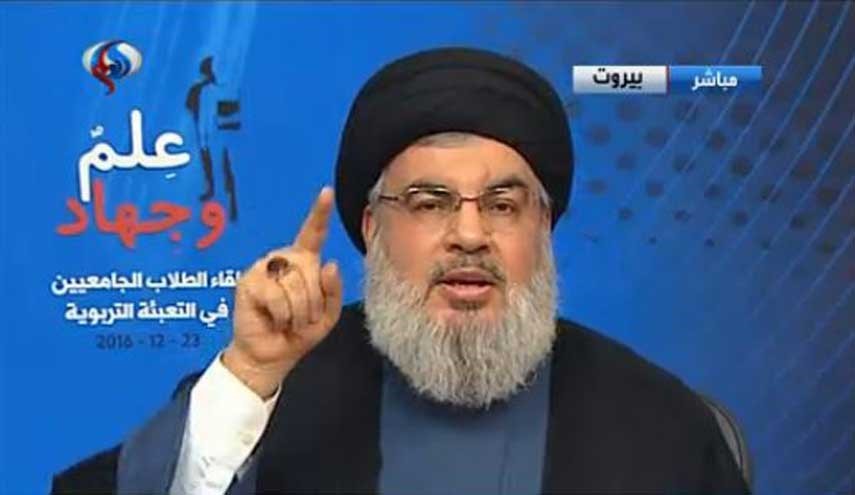 The secretary general of the Lebanese Hezbollah resistance movement says scheme against Syria had two goals, the first is to topple the government and the second is to bring Syria down.
The secretary general of the Lebanese Hezbollah resistance movement Sayyed Hassan Nasrallah says Takfiri militants perpetrating heinous crimes across the Middle East and North Africa have no connection to Islam and the religion's most revered figure Prophet Muhmamd (PBUH).
Addressing his supporters via a video link from the Lebanese capital city of Beirut, Seyyed Hassan Nasrallah stated that efforts to tarnish the image of Islam have entered a new phase, stressing that all Muslims bear the responsibility of denouncing the atrocities and make it known to the international community that the crimes are not linked to Islam.
Sayyed Nasrallah said: Aleppo liberation is a big victory, major development on political, military levels.
Allegations about demographic change in Aleppo are lies, and those who did such change are the Takfiri militants, he said.
Sayyed Hassan Nasrallah salutes Mujahedeen (Resistance Fighters) across Lebanon and Syria who are defending their countries and said: Takfiris' atrocities are real massacres on the humanitarian and cultural level.
Sending children to carry out suicide attacks is something very dangerous, horrible and must be denounced, these savage Takfiri terrorists are insulting Islam Sayyed Nasrallah Said.
Sayyed Nasrallah condemns Daesh (ISIS, IS and Islamic State) crime to burning Turkish soldiers alive and said: we must raise our voices to refuse and condemn atrocities committed in the name of Islam.
The secretary general of the Lebanese Hezbollah resistance movement saying that "we must be aware that western media has been using terms like "extremist Islam" or "Muslim terrorism," Stressed that there is contradiction between Islam and terrorism.
Sayyed Nasrallah said Turkey is paying price its support to ISIL and Turkey is urged to announce a clear stance regarding ISIL.
"What happened in Aleppo is a real and tough war" Nasrallah aid and Nasrallah added: huge numbers of foreign militants from across the world took part in battles which took place south and west of Aleppo.