Iran
Hassan Nasrallah
Leaders of Ummah
Lebanon
Middle East
Sayyed Nasrallah: Second Fuel Vessel from Iran to Sail in Days, Others to Follow
Hezbollah Secretary General Sayyed Hasan Nasrallah announced on Sunday that the second vessel carrying Iranian fuel will be heading to Lebanon soon followed by others to ease fuel shortages in the country.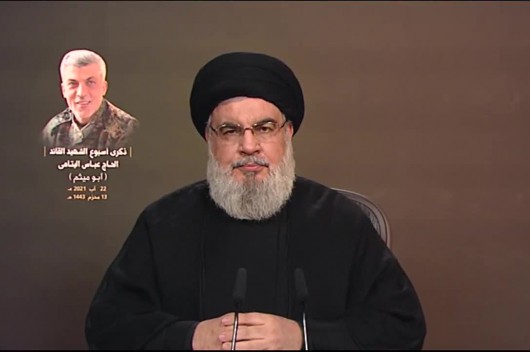 In a speech during a memorial ceremony in Hermel marking one week since Martyr Commander Abbas Al-Yatama passed away, Sayyed Nasrallah said Hezbollah is seeking to alleviate the suffering and what we will bring will be for all Lebanese and all those living on Lebanese soil.
"I announced previously that the first fuel ship from Iran would sail within hours, I announce now that the second one will sail in few days to be followed by others thereafter," His eminence said, adding that as the first ship became at sea, more ships are to follow as long as the crisis persists. "The fuel oil we'll bring is for all the Lebanese, not for Hezbollah or Shiites exclusively," Sayyed Nasrallah pointed out.
Sayyed Nasrallah assured that he will be declaring the technicalities in the coming period, rebuffing all claims regarding where the vessel will dock as mere jabbering. "We are not an alternative to the state in this matter or in any other matter. We cannot be so and we are not an alternative to the companies that import oil. Our goal is to break the black market, prevent monopoly and relieve people's sufferings."
"We are not supposed to bring Lebanon's full demand of gasoline and diesel but rather good quantities that alleviate pressure of the companies and the stations," Sayyed Nasrallah said.
His Eminence revealed that he had a report on tens of millions of liters of gasoline existing in the tanks of the official importing companies, and stressed that those who monopolize fuel oil should be arrested and thrown in prisons.
On Thursday, Sayyed Nasrallah dropped a bombshell announcing that an oil tanker carrying Iranian fuel oil was bound for Lebanon, warning the US and 'Israel' that from the moment the Iranian ship sails, Hezbollah will consider it a Lebanese territory.
Hezbollah leader pointed out that bringing in Egyptian gas helps operate electric power in Lebanon, and also contributes to breaking Caesar's law and solves a major problem in the electricity crisis in Lebanon. "We welcome Egypt's gas and the Jordanian electricity and any effort that secures electricity, but it's important for Lebanese to know that it takes at least 6 months for Egyptian gas to flow through Jordan, Syria, and North Lebanon."
Sayyed Nasrallah addressed the US ambassador in Lebanon Dorothy Shea, saying: "If you want to help Lebanon, tell your administration to stop preventing other countries from helping Lebanon, and we wouldn't want neither your initiative nor your money."
"The US ambassador and her predecessors are running the whole battle against the resistance and the real national forces, WikiLeaks and other intelligence documents proved that," he stressed.
His eminence suggested that the next Lebanese government pursue drilling for oil and gas off Lebanon's coast, stressing that Hezbollah could bring an Iranian company to drill, if necessary. "There are companies ready to extract oil and gas from Lebanese water and sell it. Countries also expressed willingness to help but they were being vetoed by the US," Sayyed Nasrallah said, suggesting that if the companies fear 'Israel' and the sanctions, Hezbollah is willing "to bring an Iranian drilling company to extract offshore oil and gas, and let Israel bomb it."
"Drilling for oil and gas in Lebanon's waters would rid the country of the need to import fuel," Sayyed Nasrallah said.
However, Sayyed Nasrallah wondered why Israeli aircraft violations of Lebanese airspace and endangering civil aviation didn't trigger any condemnation from the sovereignty promoters.
Sayyed Nasrallah's speech came as a tribute to martyr commander Abbas Al-Yatama, aka Abu Maitham, who joined the Resistance ranks when he was 17 years old. Recalling some of Yatama's traits and accomplishments during his service, Sayyed Nasrallah said that his personal characteristics emerged in front of the rest of his brothers as soon as he followed the Resistance procession.
"Martyr Abbas started as a fighter, then as a trainer, then assumed various leadership responsibilities and directly participated in field operations," the S.G. recalled, adding that he was one of the military leaders in the South Front, despite that he was the son of Hermel. "Since the onset of Syria crisis, the martyr was one of the first leaders who joined the fronts and went to the most dangerous places there," Sayyed Nasrallah said, pointing that the secret behind the Resistance strength is that it never strived after gains here and there.