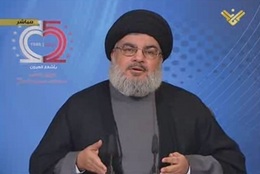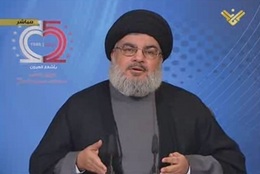 Hezbollah Secretary General Sayyed Hasan Nasrallah stressed Monday that liberating the nine Lebanese citizens who were kidnapped and held in Syria's Aazaz for 17 months gives hope to the families of the rest Lebanese missing and kidnapped people that their day of freedom is near to come.
Hezbollah Secretary General Sayyed Hasan NasrallahDuring a speech he delivered on the 25th anniversary of Al-Rasoul Al-Aazam hospital in Shahed School of Beirut southern suburb, Sayyed Nasrallah underlined the Syrian situation militarily and politically and the Lebanese internal situation regarding the oil file and the security developments.
His eminence congratulated Aazaz liberated Lebanese thanking all those who contributed to their freedom and emphasizing that the two bishops must be freed which is a mutual concern between the Lebanese and the Syrian people.
"All the Lebanese who were kidnapped due to the events in Syria must be freed, including Hassan al-Miqdad, Samir Kassa and the residents of Maaroub town," Sayyed Nasralla said, stressing that someone should be delegated to follow-up on such affairs in order to know the responsible for the kidnapping and to "epon the door for old files.
"If we are in a respectful state, humanitarian issues must be opened regardless any political aspects… Regarding the Indonesian boat (which sank last month) the Lebanon reclaimed its citizens… This is teh school of Resistance which does not accept to keep prisoners of bodies of martyrs for its enemy," His eminence noted.