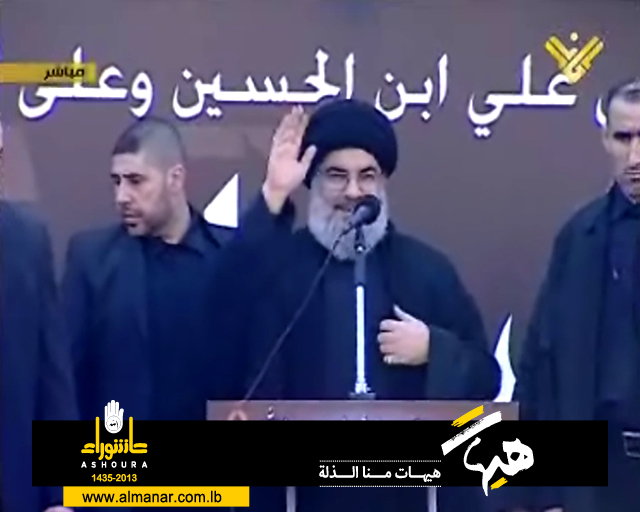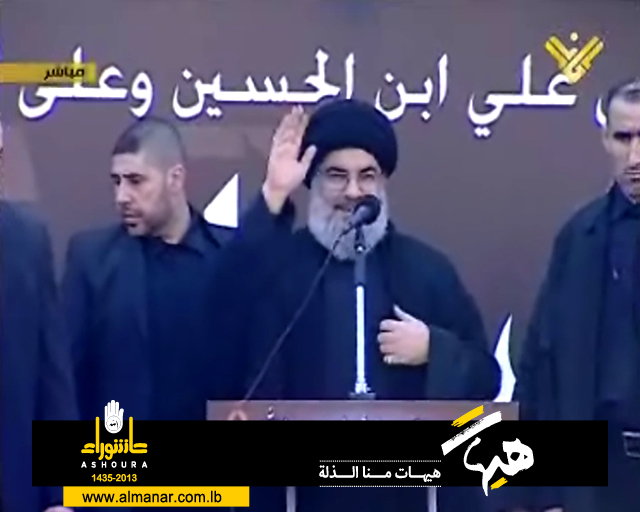 Hezbollah Secretary General Sayyed Hasan Nasrallah appeared live among crowds mourning Imam Hussein (as) for the second day in succession in the Southern Suburb of Beirut, confronting every threat posed by enemies, whether the Zionist enemy or the Takfiris.
In a second surprising appearance in Ashura this year, Sayyed Nasrallah joined crowds during the Tenth Day of Muharram procession and delivered a live speech in which he reassured that no threat would stop us from renewing our pledge to the Master of Martyrs, Imam Hussein (as) who refused any kind of humiliation.
Sayyed Nasrallah announced about several stances during his speech, starting with the ongoing adherence to the path of resistance as long as the enemy is present, moving on to national unity and the rejection of any division.
Adherence to Resistance
"First, we reassure our adherence to the resistance, its capabilities, and weapons, as a main path for protecting our country, its goods and wealth. Some in Lebanon talk to us about the French resistance which submitted its arms, neglecting the fact that this took place after the threat was over. However, the resistance in Lebanon liberated the land but the enemy still exists and is still threatening, spying, and preparing for wars; so are we required to empty the battlefield for this enemy? As long as the reason for resistance is present, the resistance will continue to confront this Israeli threat," his eminence said.
Palestine Central Cause
"Second, we should remind the entire Arab nation of the central cause which is Palestine, as we must not abandon this cause no matter what the situations were, and Muslims must all stand by the Palestinian people so that they liberate their land and sanctities," Sayyed Nasrallah added, stressing that despite all the crises facing our country or the region, Palestine should always be the central cause.
Rejection of Division
Third, his eminence reassured his "rejection to any kind of division, and emphasized the importance of holding on to the unity of every land and country and finding political solutions to internal crises through dialogue."
No Bargain on Our Presence in Syria
"On this point, as I said previously, our presence in Syria is for defending Lebanon, Syria, Palestine, and the resistance against all threats facing them. As long as the reasons are present, we will stay there. The problem in Lebanon is that they always turn the actual problem into a reason. Anyone who puts Hezbollah's withdrawal from Syria as a precondition for forming a government is putting a hopeless condition, and we won't bargain our presence in Lebanon, Syria, and the axis of resistance for some ministerial portfolios," Sayyed Nasrallah further stated.
"When there are strategic dangers threatening the people in the region, there is no room for bargain, we are not asking for a political cover to keep the resistance arms, and we will not ask you in the future," he added, indicating that "we have never and will never need your cover for our presence in Syria, so keep the hopeless preconditions aside."
Danger of Takfiris
Regarding the danger of Takfiris, his eminence pointed out that "the danger of Takfirism threatens all Muslims and the evidence is what they are facing all around the Muslim world. This problem threatens everyone and could be limited through everyone's cooperation."
Importance of National Unity
In conclusion, he said: "We emphasized the importance of our national unity and coexistence as Lebanese, as we have a common destiny, and we call for all types of approach and openness despite differences and division, so that we achieve some of the good livelihood our people look forward for."