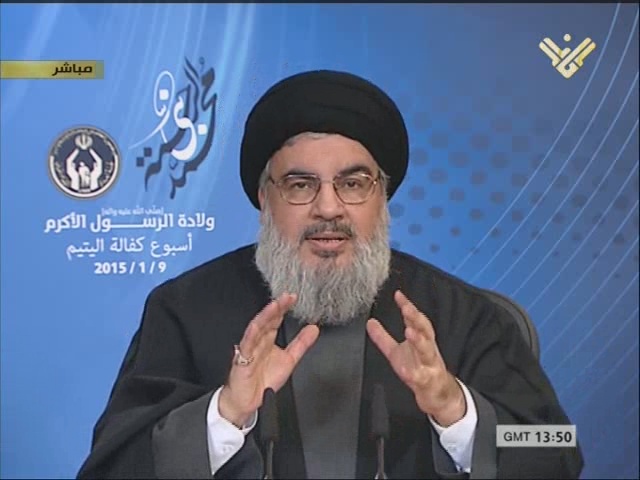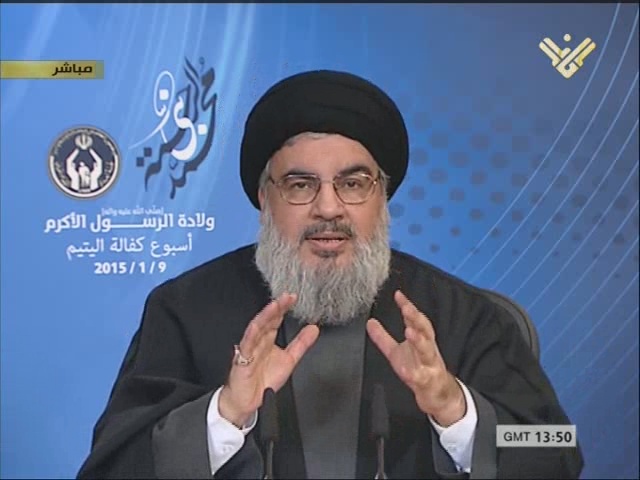 Second part of the full speech delivered by Hizbullah Secretary General His Eminence Sayyed Hassan Nasrallah during the ceremony held on the Holy Prophet's (PBUH) Birthday and al-Imdad Association Day on Friday January 9, 2015.
Moving to the Lebanese front, I have several quick points to say.
The first point is the Hizbullah-Future dialogue under the kind sponsorship of Speaker Nabih Berri. I want to assert and assure the Lebanese that it is moving forward with the required seriousness from both parties. The dialogue is of great benefit to the country.
It is enough that the situation in the country has largely calmed down since the day we started talking about this dialogue until it actually started. We do not claim that there is not any political tension or congestion anymore. However, it is in its least level. No doubt this is of great benefit to the country and to all of the Lebanese.
When the call was first made for the dialogue, some parties voiced doubts regarding the dialogue but it took place. However still some have doubt over its outcome, efficiency, and usefulness. Will it be fruitful or not? Here I am telling you that based on the two sessions that took place, the nature of the points tackled in the dialogue, and the status of the sides partaking in the dialogue, I can speak of major positivity that can lead to tangible results. This is most probable. We as well as all the sides concerned in this dialogue are logical from the very first day. We did not set high ceilings. We did not set a definite agenda. We know – we all know – that it is difficult to reach a result in such causes under the current conditions. Is there a set principle on which we as Lebanese must agree on: either we agree on everything or we fight, argue and attack each other in the media, boycott each other in politics, and leave our square, country and nation tense? Aren't there except these two alternatives? Isn't there a third choice? There is a third choice.
It is that we communicate and enter into dialogue. We work according to what we agree on, and we organize what we disagree on or postpone it or find a mechanism to continue dialogue on it. This is what logic and the mind says. Religion, morals, and national interest say so. Indeed that does not appeal to some people in the country. I do not wish to accuse forces. I will limit what I am saying to definite persons. Some people have no interest in the Lebanese standing shoulder to shoulder. They have no interest in Shiites and Sunnites sitting together to talk with each others as Shiites and Sunnites in general or as political forces.
That's because we are not claiming that we alone represent Shiites, and no one is claiming or is supposed to claim that the Future Movement alone represents Sunnites. However, no doubt this dialogue leaves a good and positive touch on the general atmosphere in Lebanon at the level of sects. Some parties cannot tolerate that Muslims and Christians in Lebanon are sitting together, are reaching agreements, are engaged in dialogue, and are finding solutions because in some place in this world and not only in Lebanon or in the region, some parties are seeking an Islamic-Christian war based on the first point I tackled in my speech.
Some are seeking an Islamic-Christian war, and they are being aided by the idiots of the terrorist Takfiri groups. This does not appeal to some people. This does not appeal to some states. However, as Lebanese people and as peoples of the region, we have an interest in all influential and effective parties, sides, and forces in Lebanon sitting together, entering into dialogue, and finding solutions to their problems through dialogue, wisdom, kind words, and peaceful means. This is what we went for. Thus we did not set high ceilings. No one said that this dialogue will resolve the dispute on the defense strategy or arms or the resistance or fighting in Syria….
From the very first day, we said that there is a country called Lebanon in the region which has witnessed a snowstorm. However, for four years by now, it is living in the heart of the storm – the most violent security, political, military, economic, cultural, psychological, mental, and intellectual storm ever. We can guard this country. We can prevent it from collapsing and falling. If there are fields in which we may agree, we work on them. If there are fields in which if we work we may reach a national agreement, let's trust in Allah and work on. You have had a look on the agenda. The agenda must lead to results. That is its ceiling.
Is it possible to achieve this ceiling? Yes indeed, in case both sides remain serious. It also seems that we will certainly reach favorable results.
From another perspective, this dialogue does not at all replace or is an alternative to the other political forces in Lebanon. This is a dialogue between two sides; however, it is not an alternative to a national dialogue or a national agreement. It is rather a path that leads to a national dialogue or a national agreement. Do you still remember when on one occasion, I said that if we cannot gather on one table now, if there isn't a president, if we can't enter into a national dialogue or if it is difficult to achieve a broad dialogue table, let's enter into bilateral dialogue or tripartite dialogue. Indeed, I did not dare to say a quartet so that no one would say I am talking about a quartet.
Well, two or three sides may sit together. Perhaps, ten sides may sit on one table. Eight of them may have no problem with each other while two have a problem with each other. Well, let these two sides stay aside then. It would be good if they solve their problems. Later these two sides would meet and say that they reached these results; if you agree on them, let's move forward then.
I mean that we are not talking about this dialogue as an alternative to national dialogue or an alternative to dialogue among political forces. We support and back all kinds of bilateral and tripartite talks among Lebanese political forces or any sides in Lebanon.
In the past, when the gate of dialogue was opened between the Free Patriotic Movement and the Future Movement, some people wrote that Hizbullah is annoyed and the like. Never! We were not annoyed. On the contrary, we talked with our allies and told them that we support this dialogue and back it and hope that it would be fruitful because if it would yield results, its blessing would be to the interest of all the Lebanese.
Any dialogue between political parties, political forces, and political movements or between Muslims and Christians is required on the level of Lebanon. Should such dialogues take place, they would pave the way for a comprehensive, inclusive, rewarding, fruitful and national dialogue that would certainly lead to achieving promising results and not to tough sessions that would only lead to further frustration and disappointment instead of the required results.
When man has confidence in himself and in his allies, he must enter into dialogue, and should any of his allies get engaged in dialogue, he must be happy, assured, confident, and encouraging. This is our position today in fact.
On previous occasions, I have always called on everyone not to burn bridges. The media situation was highly pressing then if you still remember. I advised all sides against raising the ceiling in their speeches and igniting the political situation because as Lebanese we have no choice but to sit together, live together, engage in dialogue, build our country together, and continue our path together.
Consequently, no matter how high the ceiling is, it will be lowered again. All people would sit together and act humbly with each other. They would succumb to each other and seek to reach results. This leads us to tackle the presidential elections in the light of the preoccupation of states and the region from us. Indeed, we are with the sides who insist on carrying presidential elections as soon as possible. However, the serious endeavor is in entering into internal dialogue. Any internal dialogue – especially Christian-Christian dialogue or among Christian forces certainly would help making this achievement. Today the Lebanese themselves alone are able to lead the Lebanese to elect a president. I am saying so to all sides concerned in this issue. So do not expect anything from abroad.
Foreign sides can't do anything for us. Neither an international agreement nor a regional agreement may do us anything. It is required that we reach an internal agreement. An internal agreement is what leads to this achievement.
Also on the internal front, I call on the Lebanese government and people as well as on official and civil institutions to cooperate in dealing with the consequences and repercussions of the snowstorm on the people, especially the areas that have been damaged and afflicted with agricultural losses among others. Indeed that requires the care of the state as well as social solidarity.
People have to help each other because the state might at times be incapable or negligent.
Thirdly, we tackle the dispute that happened yesterday on the waste management crisis leading to closing the session and the Premier saying he would not convene another session because the government has to address this crisis.
We hope the influential and sincere political leaders will play a role and that this file will not be neglected. Let no one erect barricades as a result of the dispute in the government. The dispute has become well-known, and it is also known which parties are parts in it. When someone erects a barricade here, and another erects another there, the crisis will continue to be for days, weeks, and months leading the country to drown in another crisis. There is no need to say more details. That would lead the country to another place, and the harm will affect all the Lebanese and all the Lebanese regions. That would be tough. It is shameful for anyone to use the garbage file in a battle of any sort.
We hope that the Premier, the ministers, as well as the political authorities – as ministers have political authorities – would not neglect this crisis and leave it to mushroom and take much time as is the case of all Lebanese crises. Everything takes with us six months and even a year to resolve. The waste management crisis is a pressing issue, and the government's work must not be paralyzed because of it at a time we know the situation in the region. At a time we do not have a president, our government's work must not be paralyzed because some political sides and some ministers have disagreements over addressing the waste crisis in the country. Thus a loud cry must be made to address it.
Concerning security and the threats at the border, there's no doubt that the security situation has been very good for several months by now thanks to the achievements of the army and the security forces. Here again, I salute all the martyrs and the wounded who made industrious efforts and offered great sacrifices to make this achievements at the home front as well as at the borderline. Still, we must be cautious. Here I would like to shed light on a point. We do not want to restrict or limit the freedom of media outlets. However, at times we act against our country.
The terrorist groups are waging a psychological warfare against the country, as is the case of the abductees – the kidnapped military men. Every now and then, information is leaked to the effect that they want to attack villages, or stage aggressions, or occupy areas… Some media outlets view that as a scoop and make haste to make reports on that. From a definite perspective, someone may say that this is to our interest as that would be evidence that there is a real threat, thus we are right in going to mountains, hills and barren lands, hold our arms, fight, and confront. Well, no, that is not to our interest. Our true interest is in people living in security, peace, stability, and even psychological integrity and serenity. The Lebanese Army, the security forces, and the resistance men have assumed this responsibility. They are there in mountains and under the snow. They are in the heart of risks and challenges. They are feeling the pain, being shot, getting injured, and being martyred. So let's try to leave the people at peace and secure as much as we can.
Furthermore, much of what is said is groundless. Much of what is said is mere psychological war. These groups are weak enough to stage such broad operations as what some media outlets talk about.
Much of the information broadcasted is also untrue. Some is baseless; some is exaggerated because the armed groups – especially in the barren lands and the eastern borders need a moral gain. You know that all the terrorist groups' efforts in Qalamoun in the past few months was concentrated on regaining control of at least one town – Flita or Jibba, or Assal Alward for example. Despite their great number and available capacities, they could not do so. That doesn't mean that they did not try. They are always trying in fact.
Anyway, in this perspective, I would like to say something to our people in Bekaa, in Bekai villages, and in the villages at the border in particular and to all the Lebanese people in general. In confronting this danger, the Lebanese are not weak. They are not incapable or in need of help from anyone. As we have defeated the "Israelis", with our own power – the army, the people, and the resistance – we can defeat the terrorist Takfiri groups, and we can defeat everyone who thinks of attacking Lebanon or putting the dignity, honor and security of the Lebanese at stake.
So as far as this point is concerned, I want you to be reassured. Neither snow, cold weather, snowstorms, martyrs, sacrifices, wounds, pains, burdens, nor accusations can shake the will, determination, and resolution of the army and the resistance men to protect their people, country, and villages. They are the ones who saved and protected, and they are ready to assume this responsibility to the very end.
As far as this point is concerned, I reiterate and assert my hope that no one would partake in intimidating people because after all no one can guarantee that an operation is not staged here or there. This is taking place now in the country.
Now France, Britain, Spain, and all the countries in the world are mobilized as well. However, a broad military operation is ruled out. After all, things are still alright. The country is still pregnant with brave and courage men and women too. There is no problem in that at all. We have stood in face, confronted, and defeated the strongest forces and armies in the world. So indeed we will gain victory over these terrorist groups that are gathered from here and there, Inshallah.
This is as far as the local front is concerned. I have a final word on the regional issue. I do not want to take much of your time. Indeed, the events taking place in the region are important and very crucial. The developments in Palestine are extremely dangerous whether on the level of the Palestinian people, the Palestinian cause, Al Qods, Al Aqsa Mosque, Gaza Strip, and the captives in "Israeli" prisons. I do not have much time to tackle the developments in Syria, Iraq, Yemen, Bahrain, and in other places in our region and in the world. However, in the days to come I have interviews with some media satellite channels in which I will tackle the situation in the region, Inshallah. So if you wish you can follow us then. Yet, in the several minutes left, I find myself obliged to tackle the situation in Bahrain.
In the past few days, the authorities in Bahrain arrested the Secretary General of al-Wefaq National Islamic Society, Sheikh Ali Salman (May Allah protect him and guard him). Indeed, this is a very dangerous step. To keep him in custody is a very dangerous move. No matter how much we said in condemning this act, we will still fall short from giving him his right. Still, this arrest has many implications. By taking this step, the Bahraini authorities seem to have reached a dead end after losing in all its bargains despite all of what the authority has done over the past years. The people of Bahrain are calling for their indisputably legitimate rights. One of the simplest legitimate rights in this time in which all people talk about democracy is that the Bahraini people have an elected parliament, and that the council which drafts laws be elected. So there must not be an elected council controlled by a number of members appointed by the government, equal to the number of the council's member, to partake in drafting laws and in the political operation.
What are the Bahraini people calling for?
1- The Bahraini people want an elected parliament. Indeed, they want a proper electoral law and an elected parliament with full authorities.
2- Since the very beginning, this people chose being peaceful in their movement. Some might say that I am talking about Bahrain at a time there are other movements and uprisings in other countries. Here I am talking about a country whose people said from the very first day that these are their rights which are natural, logical, and sound. They have a set of rights but this is the most prominent right. They also chose to have a peaceful movement.
Fire was opened on them; they did not fire back. They were killed in streets; they did not take the initiative to kill. I am not saying that they did not resort to arms and bombs or import fighters or fighting groups from abroad; they did not use a single knife either. They insist on having a peaceful movement. This is what embarrassed the authority even more over all of these years.
The religious as well as the political opposition leaderships – topped by His Eminence Sheikh Issa Qassem (May Allah guard him) and al-Wefaq Society Secretary General, His Eminence Sheikh Ali Salman (May Allah protect him) – are settled on having a peaceful movement.
You know and we as Lebanese know that peacefulness is something difficult to achieve. The easiest thing to do when someone is hit or shot at is to get outraged, take his arms, and open fire. That is in case he has arms; if not he would think day and night of fetching arms to fire back. Isn't this true?
These people are being attacked in their homes. Their honor is being attacked. Their religious scholars, their political figures, their leaderships, and their women are in jail. You know what happens in prisons. They were killed in the streets; still they did not resort to violence or to any means of violence. They carried on insisting on demonstrations, protests, ceremonies, speeches, and peaceful means – the most peaceful means in fact. There are some means that are characterized as peaceful and not as violent. They did not even resort to them in most cases. The authority used always to talk about dialogue in form; however, it did not get engaged in a true and serious dialogue. The opposition was always ready for dialogue because the nature of the move and the goals is peaceful what goes with the nature of dialogue and the means of dialogue.
However, the authority always used to evade any dialogue or the outcome of any dialogue. In the past years, Bahraini authorities bet that the people get tired of their uprising. However, that did not take place. One day, two days, one month, two months, one year, two years, three years, and four years passed without that taking place. We in Lebanon get tired of two or three months of protests and say that demonstrations will not lead us anywhere.
The people of Bahrain has been demonstrating and protesting and practicing a peaceful movement for 4 years by now. Indeed, this is a distinguished sample unmatched in the whole world. In all or most of the squares such movements deteriorated rapidly to violence. Yet, this square did not deteriorate to violence. It's not because there are no men in Bahrain. For sure there are men in Bahrain. The people of Bahrain are known for their bravery, courage, zeal, and fearlessness. This is their history. It is not also because no one can use arms in Bahrain. Let me say this even if the Khalifa dynasty will come and take me to prison. It is not because no one can deliver arms or fighters to Bahrain. No, that is not the case. Bahrain is like any other country in the world.
Arms, fighters, and armed men can reach even the most controlled country, and small groups can destroy any country.
The fact is that the will of the scholars and political leaderships and the people in Bahrain is preventing that and insisting on the peacefulness of their move. They bet that the people will fall into despair. However, four years passed, and the people did not fall into despair though the entire world abandoned them and let them down – the international community, states, governments, and many of those who backed the Arab Spring stopped when it reached Bahrain. They unfairly classified Bahrain as a sectarian and factional case at a time it is not as such at all.
Now I do not have time even to talk about Bahrain and what the people of Bahrain are being subject to. Do you know what is there in Bahrain? I did not want to use this phrase but there is no problem in saying it even if for once. There is a scheme similar to the Zionist project. There are settlements, a huge invasion, and an endless rapid-growing act of naturalization. People are being brought along from all around the world. They are granted the citizenship and provided with job opportunities, a good salary, security, respect, and dignity at a time the native person whose fathers and ancestors have been in this country for hundreds and thousands of years is not given and even deprived the simplest rights.
The native people are even being expelled and imprisoned and their citizenship is being withdrawn from them at the least political position they take. Industrious efforts are exerted around the clock to change the identity of the Bahraini people, and a day will come when a people other than the Bahraini people will be residing in Bahrain. This is similar to the Zionist scheme in Palestine that aims at reaching a time in which Palestine will be dwelled by Jews who were brought along from all around the world. Isn't this unfair and unjust?
Well, this people carried on in their peaceful movement despite all of the forsaking. They did not fall into despair. The state realized that they did not get frustrated.
Second: The state bet that the religious and political leadership would give up. After all, the people would question scholars and the political leaderships saying that they have demonstrated for a year, two, three, and four. As such the political leadership would say that this is the end of the story.
However, the scholars and political leaderships still insist in moving forward. The authority bet that the Bahraini youth would be dragged to violence through its tyrannical practices. Believe me in what I am saying. I hope our people in Bahrain are listening to my evaluation. The interest of the Bahraini authority is in people being dragged to violence. If the opposition is accused of or is practicing violence, the authority would be able to talk about national security being at stake, and as such it will be able to hit the opposition and expel or crush its leaderships. Consequently, the opposition will come to an end.
For four years, the authority has been trying to drag the opposition in Bahrain to an armed clash and to practice violence, and it failed to do so. I reiterate that one of the important elements is the adherence of the Bahraini people as well as its leadership to peacefulness. This is their culture because if there is a leadership that insists on peacefulness at a time the people have a different culture – the culture of rushing to fight – the story would have been different. The culture of this people as well as the leadership of this people led to moving forward in the peaceful movement. Well, how do we view the arrest of His Eminence Sheikh Ali Salman? He is one of the figures and leaderships who insist on peacefulness.
This is what we must all be aware of. So we might witness all leaderships who insist on peacefulness being dragged to prisons to hit the peaceful movement and to hit the movement in general. What are the accusations which Brethren Sheikh Ali was charged of? He was accused of provoking violence. Well, if someone wants to charge another with an accusation, he must search for a charge that might be believed. All the Bahraini people and all people know that Brethren Sheikh Ali is peaceful to the maximum. Even those who agree with him on his peacefulness say that he is extremely so. Well this struggling leader and sheikh was accused of provoking violence to topple the regime. This is at a time there is a dispute within the opposition. Some adopt the idea of toppling the regime; others adopt the idea of toppling the regime of the Khalifa dynasty. So some adopt a definite reform idea and call for an elected government and parliament. Sheikh Ali is part of the latter group. He did not provoke the idea of toppling the regime. He did not also provoke violence. The pretext resorted to is false and feeble. The Bahraini government will discover or had already discovered that it is perpetrating a stupidity. It could not stop this movement through arresting scholars and former figures or through arresting Brethren Sheikh Ali Salman.
Should the Bahraini government arrest all or the majority of the Bahraini people it might be able to stop the movement in the street, but it will not be able to stop the movement in prisons. The people insist in moving forward in their movement behind a brave, faithful, and religious leadership. They also insist on peacefulness. Today, I am expressing our solidarity and support. Since the very first day, we stand with this popular peaceful movement and its logical goals and civilized manners, and we call on everyone to show solidarity with this people and to reveal the oppression they are being subject to. We call on all states and international institutions to press on this tyrannical oppressive government to grant this people their rights and to free all of the captives whether scholars or figures topped by His Eminence Brethren Sheikh Ali Salman.
From another perspective I assert and support – as we all do – the call made by Bahraini scholars and leaderships and asserted by His Eminence Sheikh Ali Salman from the prison which is insisting on peacefulness. It might be that through this arrest or through similars arrest the authority is aiming at dragging the Bahraini street to violence and to armed confrontation. This is not to the interest of Bahrain or to the interest of the Bahraini people.
See what took place in all the states in the region. When arms were resorted to what was the result and what might be the result in any country?
Anyway, I wanted to tackle this issue on this occasion and I ask Allah Al Mighty that this occasion will return next year with our nation having managed to emerge from all its trials successfully and to confront all of these challenges triumphantly and to achieve a true victory. We hope our nation will be able to overpass these difficult stages through unity, awareness, wisdom, assuming responsibility, and toppling all the schemes and conspiracies contrived in and outside the nation and that may drop the nation to deep abysses.
I ask Allah Al Mighty to grant us success. Thanks to you all. Hundred returns, and peace be upon you and Allah's mercy and blessings.
Source: al-Ahed news