Iran
Scientific achievements sign of Islamic Revolution's growth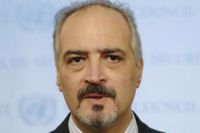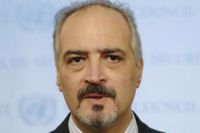 The Syrian envoy to UN, Bashar Jafari, has noted that the scientific achievements of Islamic Republic of Iran are a sign of the continued growth of the Islamic Revolution in its 34th anniversary.
According to IRIB World Service, citing IRNA, speaking on Monday night on the sidelines of the ceremonies marking the 34th anniversary of victory of the Iranian nation's Islamic Revolution, the Syrian envoy to UN noted that Iran's scientific accomplishments depict an upbeat and promising horizon for the Islamic Revolution.
He added that the launch of a missile, carrying a live creature to space, shows Iran's ability in different domains.
The Syrian ambassador to UN referred to the effective role of Iran's Islamic Revolution under the leadership of the Founder of Islamic Republic of Iran, late Imam Khomeini (May his soul rest in peace), in the global arena, while adding that the Islamic Revolution and its achievements are not only for the people of Iran, and in fact the people of other countries, including the Syrian people, maintain a sense of belonging to the Islamic Revolution.
In further remarks, Jafari referred to the support of Islamic Republic of Iran for the resistance against the Zionist regime of Israel and congratulated the Muslim Iranian nation on the valuable victories and achievements of Islamic Iran.
The festivity marking the auspicious anniversary of victory of Iran's Islamic Revolution was held at the UN Headquarters in New York, on Monday night, in the presence of the ambassadors and representatives of different countries.