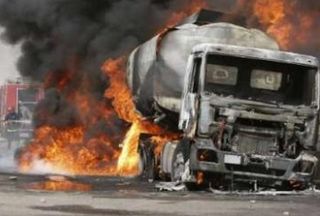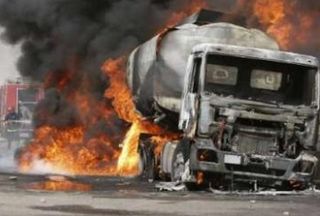 A tanker truck explosion in the Democratic Republic of Congo has left at least 200 people dead, setting fire to a village in the east of the country.
According to local officials, the truck was coming from Tanzania and it caught fire after it overturned.
The blaze caused by the incident spread throughout an entire village located around 70 kilometers south of the eastern city of Bukavu.
"There was a crushing (of people) and a petrol leak; there was an explosion of fuel oil which spread through the village," AFP quoted Vincent Kabanga, the regional government spokesman, as saying.
"So far, the accident has left 200 dead. It is a provisional toll. We have people on the spot and the search (for victims) is continuing," said Leonard Zigade, a Red Cross official in charge of Sud-Kivu province.
Meanwhile, a police officer said the incident had been caused by the truck's "excessive speed."
"We don't yet have an exact toll," the police officer said on condition of anonymity.