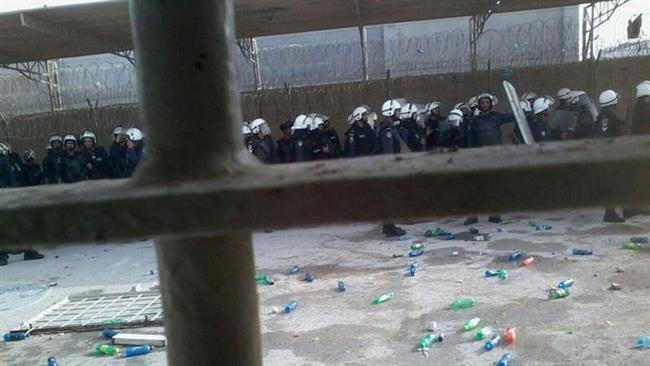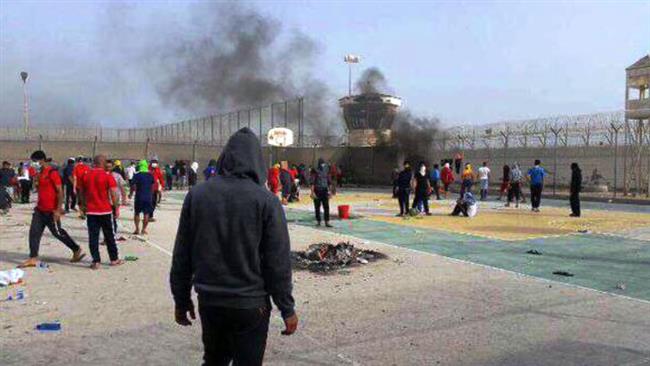 A heavy crackdown on inmates in Bahrain's Jaw prison has left dozens injured, sources close to a Bahraini opposition group have revealed.
According to al-Wefaq National Islamic Society, the incident on Tuesday came after security forces attacked people who were trying to visit relatives inside the prison, which is located in a remote area south of the capital, Manama.
Al-Wefaq added that the regime is risking the lives of the prisoners to take revenge from them for the expression of their political ideas.
Families of the victims have confirmed heavy clashes erupted in the facility.
Messages on the social media showed two inmates, namely Jameel Abdel-Ghani and Ali Hussein Abdel-Nabi, were severely beaten by police.
Other images proved the bloody confrontations between the inmates and the security forces. Tear gas canisters and batons could be spotted in the pictures, further proving the severity of the crackdown.
Other reports said the police have raised the security alert inside the prison to the highest level.
The attack mostly targeted inmates in cells 1 and 4, where political activists and members of the opposition groups are being held.
Meanwhile, clashes broke out between protesters and police forces in the northern village of al-Daih over the incident in Jaw prison. The demonstrators, who were marching for release of the opposition leader Sheikh Ali Salman, denounced the heavy crackdown on prisoners.
The notorious Jaw prison, Bahrain's central detention facility, is where the regime keeps hundreds of people behind the bars only for their participation in the peaceful protests against the kingdom.
Since mid-February 2011, thousands of anti-regime protesters have held numerous demonstrations on the streets of Bahrain, calling for the Al Khalifa family to relinquish power.
The Manama regime's crackdown on peaceful protests has intensified since the arrest of Sheikh Salman.
Many people have been killed and hundreds of others injured and arrested in the crackdown on peaceful demonstrations since 2011.