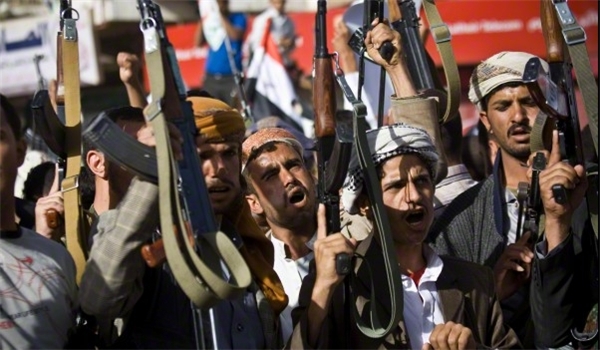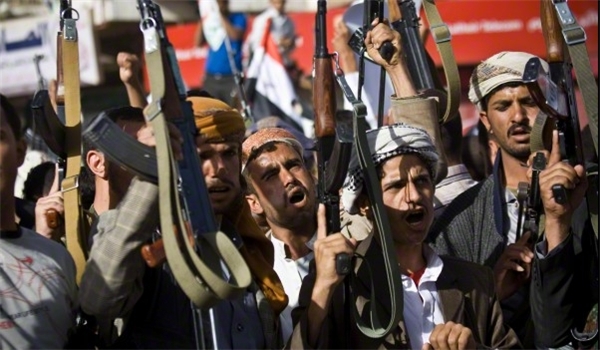 Scores of Saudi-backed terrorists surrendered themselves to the Ansarullah fighters in Aden on Monday, as the popular movement is pressing ahead with its military campaign against the militias.
According to reports, dozens of al-Qaeda terrorists and pro-Hadi militants put down their weapons in the Southern Yemeni city of Aden on Monday, after the Ansarullah forces along with army units inflicted major losses on them and gained new territory.
A Yemeni military official, speaking on condition of anonymity, said, "The terrorists and militias fled the battlefield and now the city (Aden) is under the full control of the revolutionary committees and army."
The Ansarullah fighters and the army troops have made major advances in their fight against the al-Qaeda terrorists and pro-Hadi militias across Yemen.
The clashes between the Ansarullah fighters and the Saudi-backed al-Qaeda terrorists as well as the pro-Hadi militias continue in the Southern parts of the country as Saudi Arabia has been striking Yemen for 26 days now to restore power to fugitive president Mansour Hadi, a close ally of Riyadh. The Saudi-led aggression has so far killed at least 2,655 Yemenis, including hundreds of women and children.
Hadi stepped down in January and refused to reconsider the decision despite calls by Ansarullah revolutionaries of the Houthi movement.
Despite Riyadh's claims that it is bombing the positions of the Ansarullah fighters, Saudi warplanes are flattening residential areas and civilian infrastructures.
Five Persian Gulf States — Saudi Arabia, the United Arab Emirates (UAE), Bahrain, Qatar and Kuwait — and Egypt that are also assisted by Israel and backed by the US declared war on Yemen in a joint statement issued on March 26.