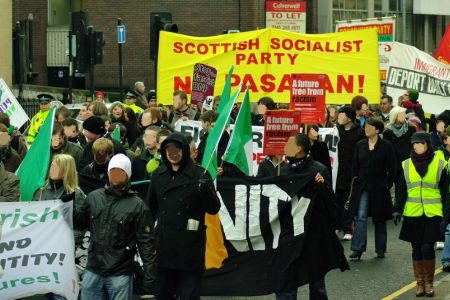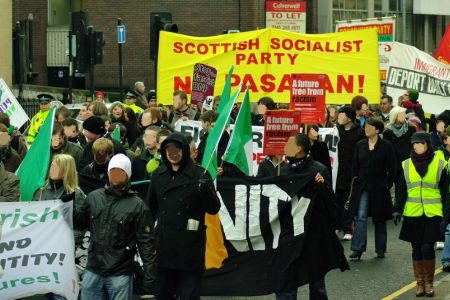 Thousands of Scots, including trade unionists, community groups and politicians have joined in Glasgow in a protest march against racism and fascism.
The protest gathering was part of the Scottish Trade Union Congress (TUC) annual St Andrew's Day march
attended and led by Sofi Taylor of Scottish TUC Black Workers' Network, Glasgow Labour MP Anas Sarwar and Labour's shadow Scottish secretary Ann McKechin.
The marchers carried a banner reading: "An injury to one is an injury to all."
"We want to speak to and for the alienated communities who would suffer most from the increased inequalities arising out of the Con-Dem cuts", Collette Williams of the Black Activists Rising Against the Cuts group in Lancashire told the rally on Rose Street.
Civil rights lawyer Aamer Anwar told the crowd that "silence is not an option" when it comes to defeating far-right groups.
"We must organise in our thousands to inflict defeat and humiliation on those, who see themselves as the 'master race,' and we should give support and confidence to the black and Muslim communities," he said.
Edinburgh and Lothians Race Equality Council speaker Professor Geoff Palmer added: "We must not allow the cuts agenda of the coalition {government} to divide our society and the many cultures that exist within it."
The STUC said it had organised the demonstration to "remind people of the dangers of allowing prejudice and discrimination to go unchallenged."