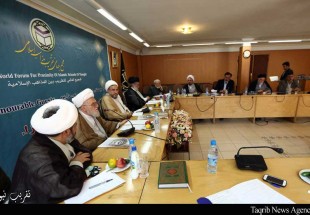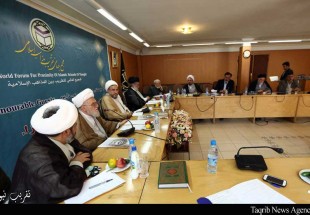 The 2nd international peace and unity conference was held in Scotland with Head of the World Forum for Proximity of the Islamic Schools of Thoughts, Ayatollah Mohsen Araki and Scottish politician, Alexander Elliot Anderson Salmond in attendance, reported Taqrib News Agency (TNA).
Religious scholars from every corner of the Islamic world, including Iraq, Lebanon, Egypt, and other countries gathered for the one-day event on Wednesday, Oct 22.
The meeting was chaired by Ayatollah Mohsen Araki, the secretary general of the World Assembly for Rapprochement Among Islamic Sects.
Clerics in the meeting urged Muslims to move and stand against the pandemic extremism in the region, stressing the unity and unity related issues as well.
To them Islamic Ummah should be impregnable, not letting enemies forward their willful aims and fulfill their objectives. Clerics urge Muslims to refrain from any conflict over petty issues which in turn led to dispersion. They condemned measures perpetrated by extremist ruffians and cold-hearted Takfiris.